Cuba revamps weather radar stations
Submitted by: admin

06 / 14 / 2007
---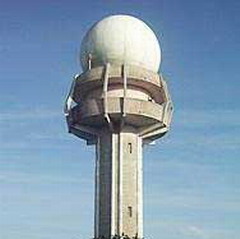 The upgrading and modernization of all the Cuban long-range weather radar stations seemed like an impossible dream 15 years ago.
During those times, near the beginning of the tough economic times that accompanied the special period, the first signs of the complex changes in the worlds climate were becoming evident.
Faced with this reality, Dr. Orlando Rodriguez began a project in Camaguey, with the participation of a group of young talented specialists, to automate the provinces obsolete radar station.
Calculations, mathematical operations, as well as hunting around to find and obtain the necessary electronic and mechanical components for modernizing the radar station with the minimum expense characterized the first years of the project until 1997.
We spoke with Rodriguez Gonzalez, head National Institute of Meteorologys Radar Station.
"Each of the upgrade projects was somewhat epic, as they are all located in remote places- with the exception of the one in Casablanca at the headquarters of the national weather service. During the past ten years we have had to face a lack or rain, excessive rains, mosquitoes, climbing and descending through mountainous locations, cold weather and excessive heat, as well as a lack of parts that we have replaced by the sheer nventiveness that characterizes Cubans."
The greatest achievements of this technological process in relation to science are: having obtained a know-how (that until now was only in the hands of just five commercial firms of industrialized nations), as well as the recognition of our work by the international community. In the social aspect, the close surveillance of any dangerous phenomenon to provide greater security to the population also has an impact on the nations economy by helping to preserve valuable resources.
"It is not the same that they tell you where the eye of the hurricane is located and its dangers, than seeing it evolve live on television and to be able to fully appreciate the range of the associated rain bands. This makes it easier for specialists at the National Forecasting Center of the weather service to explain the situation and people to understand it in a much better way.
"There is a real concern here about safeguarding lives and resources of the population [...] something that in Cuba is almost taken for granted by the people, but that in other nations simply doesnt happen. Let us remember what happened with Hurricane Katrina in the United US.
Source: By Enrique Atienzar, Granma
---
Related News
---