Cuba raising eyebrows in Gold Cup Soccer
Submitted by: admin

06 / 11 / 2007
---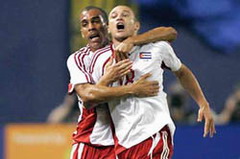 More than 68,000 turned out for the Group C doubleheader, the majority for the opening game in which Honduras stunned Mexico 2-1, complicating what was thought to be a guaranteed second round qualification for the Mexican squad.
After taking a 1-0 lead, Cuba lost to Mexico by a 2-1 score in its opening match on Friday.
The four teams pack their bags on Monday morning to take a charter flight to Houston, Texas where the fate of the squads will be determined on Wednesday when Honduras plays Cuba and Mexico goes up against Panama.
Cubas hopes to make it to the second round were saved at minute 78 when Reynier Alcantara, who played sensationally, took a cross from Jaime Colome in the Panamanian goal crease and connected a left footed missile that shot by goalkeeper Jaime Penedo.
With one minute remaining, Cubas goalkeeper tripped a Panamanian attacker who was taking advantage of an open space left by the Cuban defense. In the nerve-wracking finish Panamas Felipe Baloy booted a penalty shot over the bar.
The Panamanians, who beat Honduras 3-2 in their opening match, took advantage of Cubas defensive slipups to score early in both periods and get the tie that gave them the Group C lead with four points.
However, the motivated Cuban team was able to comeback and score on both occasions. After Jose Luis Garces opened the scoreboard for the Panamanians at minute 16, Jaime Colome scored at minute 29 on a free kick, two meters outside the corner of the penalty area.
A poor pass by the Cubans allowed Blas Perez to regain Panamas lead at minute 46. The islands team, coached by Raul Gonzalez Triana, didnt let up on the throttle and once again with Alcantaras goal received a torrent of praise form the sports press and fans, mostly Latin Americans.
The Mexican fans, many who had come from nearby New York, didnt hide their dissatisfaction with their team and threw things at the players, led by Hugo Sanchez, as they left the field.
After the results on Sunday, Panama (four points) is followed in Group C by Mexico and Honduras with three points each and Cuba with one.
In other CONCACAF Gold Cup action, the biggest surprise came at the Orange Bowl in Miami where the first team qualified from Group A for the quarterfinals. The small Caribbean island of Guadalupe (4 points), led by the former French national team player Jocelyn Angloma, won 2-1 over Canada (3 points) which had beaten Costa Rica in the opening match. The Costa Ricans (1 point) tied 1-1 against Haiti (2 points) on Sunday.
In Group B, the United States (6 points) already qualified for the second round after beating Trinidad and Tobago (0 points) 2-0. Guatemala and El Salvador have three points each. In the match between the two Central American teams Guatemala won out 1-0.
Cubas Lineup against Panama was: Odelin Molina; Silvio Pedro Minoso, Yenier Marquez, Reysander Fernandez, Gisbel Morales; Alain Cervantes (Ariel Martinez, m.85), Osvaldo Alonso, Jaime Colome), Pedro Adirani Faife; Reynier Alcantara, Leonel Duarte (Adonis Ramos, m.65).
Goals: Panama: Jose Luis Garces (16) and B. Perez (46); Cuba: Colome (29) and Reynier Alcantara (78).
Source: By Miguel Hernández, Granma
---
Related News
---