Cuba participates in the First Seminar on Testimony taking place in India
Submitted by: admin

03 / 26 / 2007
---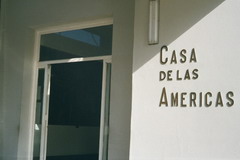 Casa de las Americas and its important role aims at spreading the Latin American and the Caribbean Literature as an integral element in the culture of these nations, especially in the promotion and revival of the testimony gender, was the main topic of the speech made by the Cuban Ambassador to India, Juan Carretero Ibáñez, during the inauguration of the First Seminar on Testimony, organized by the Hispanic and the Latin American Research Center at the University Jamia Millia Islamica, located in New Delhi.
Before a crowded and enthusiastic audience, integrated by researches, intellectuals and specialists in Literature, from several universities and institutions all-round the world, as well as Ambassadors and other Latin American Diplomats credited in India and gathered in "Yasser Arafat" Salon of the Center of High Studies, the Cuban official summed up the work developed by Casa de las Americas since its foundation, in 1959.
There was a moment of great excitement before the Cuban Ambassador began his speech, when he expressed that he wanted to dedicate the first words to the outstanding Colombian writer Gabriel García Márquez, on the occasion of his 80th birthday. Immediately he showed a picture of Garcia Marquez next to the Cuban President, Fidel Castro Rúz, during the visit of the Nobel Literature Award to Cuba on the occasion of Fidels birthday.After this, Carretero informed to the people attending the activity on the recovery of the leader of the Cuban Revolution, and added that hed possibly come back to his usual work soon.
This information was very welcomed by the audience, with lingering applauses and signs of great happiness. He also remembered that Casa de las Americas was conceived as a place for meeting, dialogue and renovating ideas, whose cultural integration encourages and promotes the socio-cultural exchange with institutions and people from different nations, especially from Latin America and the Caribbean.
During his speech, the Cuban Diplomat referred to the role of the founder of Casa de las Americas, and also a heroine of the revolutionary struggle in Cuba, Haydeé Santamaría, her sensibility and talent; as well as to those that came after her, among them the outstanding Cuban painter already deceased, Mariano Rodriguez, and the well-known poet and essayist Roberto Fernández Retamar; the successes achieved by this institution, especially, the Casa de las Americas Award (1959) that was the first international ceremony that took place with the purpose of diffusing the Literature of the Continent.
Finally, the Cuban Ambassador wished lots of successes to those who participated in this Seminar, and added that "Casa de las Americas, with its Renaissance work of the Latin American and the Caribbean Literature, was the one that promoted -since its foundation- the testimony gender, which has contributed to the recovery of the historical memory of Our America. "
Source: Cubarte
---
Related News
---