Cuba moves toward oil self-sufficiency
Submitted by: admin

04 / 24 / 2007
---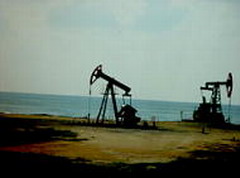 A modernized oil refinery in Cuba is set to go on line in December in a shift due to turn imports-dependent Cuba into an oil exporter.
Overhauled with capital from a joint Venezuelan-Cuban company, the Cienfuegos refinery in south-central Cuba will meet the Caribbean countrys own demands, and earmark 9,000 barrels of gasoline a day for export, reported project officials in a press release.
«Cubans and Venezuelans are making capital repairs and modernizing the Cienfuegos refinery which is expected to process 65,000 oil barrels a day by the end of 2007 or early 2008, » said Carlos Lage, secretary of the Executive Committee of the Council of Ministers at the press conference.
The Camilo Cienfuegos Oil Refinery, built in the late 1980s, began operating intermittently in 1991. Four years later however, in the middle of the "special period" (Cubas economic crisis after the collapse of the Soviet Union), the main operations were shut down and the facilities mothballed.
In the first half of 2005, Cubas and Venezuelas leading oil companies estimated the costs of reactivating a part of the plant. Ready to invest the necessary $83 million in modernization expenses, a Cuban-Venezuelan joint venture was established in April 2006, with the Cuban government investing 51 percent and its Venezuelan counterpart 49.
Source:By Julio Martinez Molina, Juventud Rebelde
---
Related News
---