Cuba may reduce nickel flow to Dutch firm -sources
Submitted by: admin

11 / 08 / 2006
---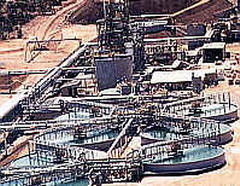 Cuba's state-run nickel producer, Cubaniquel, is in talks to reduce shipments to a Dutch company that buys around 50 percent of the island's nickel and perhaps divert the metal to China, diplomatic and banking sources said this week.
Cubaniquel has told Rotterdam-based Fondel International B.V., through which it got about half of its $1 billion in revenues in 2005, it wants to cut back on the amount of nickel it sends.
"The only question now is how much less they plan to export to Rotterdam," a European diplomat said.
The Cuban nickel industry is operating at capacity at around 76,000 tonnes of unrefined nickel plus cobalt per year.
The ambassador's statement was confirmed by a western banker who said, "they are in negotiations with some, not all, of the product on the table."
The diplomat and banker said they believed Cuba planned to send more of the unrefined metal to China, though China and Cuba had no immediate comment.
China has emerged as Cuba's second trading partner, after Venezuela, at more than US$1 billion this year and is providing hundreds of millions in soft credits.
China's state-owned Minmetals Corp. has signed a number of agreements to invest in and purchase Cuban nickel, though major investments have yet to materialize.
A 5,000 tonne purchasing agreement is reportedly in place.
China is also considering providing credits for the sector.
"We are definitely planning to send more nickel to China," a local expert said, asking, like others interviewed, to remain anonymous.
"We had hoped to be producing more by 2007 and have made commitments," he added.
At one point Cuba announced it would produce 100,000 tonnes of nickel plus cobalt in 2007, compared with the 76,000 tonnes now forecast, with just 4,000 additional tonnes expected on line in 2008.
Fondel is a private company headed by 74-year-old Willem van't Wout, considered a friend of ailing President Fidel Castro, who recently said he planned to retire and divide his company up between his children.
Cubaniquel operates two of three processing facilities in Holguin province, 500 miles (800 km) east of Havana, and is a 50 percent partner in the third with Sherritt International.
The joint venture produces 33,000 tonnes of nickel plus cobalt which is sent to a refinery in Canada operated by the partners and then sold.

The two older plants have shipped their product mainly through Fondel for more than a decade.
Stepped-up U.S. efforts to track Cuban nickel and cobalt and forbid goods containing them from entering the United States has led Cuba to declare the industry strategic and shroud it in secrecy.
The Communist-run Caribbean island is one of the world's largest nickel producers and supplies 10 percent of the world's cobalt, according to the Basic Industry Ministry.
Nickel is essential in the production of stainless steel and other corrosion-resistant alloys. Cobalt is critical in production of super alloys used for such products as aircraft engines.
Cuban nickel is considered to be Class II with an average 90 percent nickel content.
Cuba's National Minerals Resource Center reported that eastern Holguin province where the industry is based counted 34 percent of the world's known reserves, or some 800 million tonnes of proven nickel plus cobalt reserves, and another 2.2 billion tonnes of probable reserves, with lesser reserves in other parts of the country.
Source: Reuters
---
Related News
---