Cuba is riding the crest of a tourist wave
Submitted by: admin

10 / 26 / 2006
---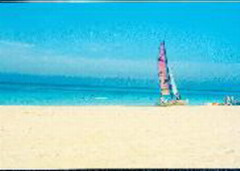 By Bern Kubisch

The volleyball players on Varadero beach - young tourists from Germany, Spain and Canada, are perspiring heavily and in the best of spirits.

Their impromtu "International Squad" has just thrashed the favourites "Cuba", a side comprising young holiday camp hosts from the "Sandals Royal Hicacos" complex.

Edanny Gomez Fernandez watches the action briefly before turning to her guest and pronouncing: "Well, 2006 has been a good year for us too". Her job is to analyse the number of bookings and monitor capacity levels in Cuba's hotels. A Cuban citizen, she studied languages in Havana and later gained a masters degree in marketing.
The hotel is run by the state-run chain "Cubanacan" organisation 51 percent) and a holding (49 percent) comprising investors from Spain, Britain and the Netherlands. Fernandez is responsible for the island's entire hotel sector.

Cuba expects to welcome 2,5 million guests this year (2005: 2,32 million) - a record for the island. Yet, even if business fails to live up to such high-flying expectations, Cuba remains a popular destination, say travel companies.

After the news of Cuban leader Fidel Castro's recent illness, more long-haul tourists than ever before are keen to visit the country and experience Castro's brand of socialism at first hand.

At the same time, many say Cuba has become too expensive, citing the rising cost of dining out in a restaurant and the price of organised tours. The poor conversion rate for euros offered by the state-run Cuba Bank is another bugbear for tourists who say they simply cannot understand why the single European currency is worth so much less here than it is in other countries.

"German bookings are running at a high level", says Wilson Cardoso of the Cuban Tourist Office in Frankfurt and this is echoed by Gunter Traeger, spokesman for Neckermann Travel: "Cuba is definitely 'in' again." Other travel firms in Germany report steady or increased interest for the destination.

Both the Condor airline, and Germany's giant TUI holiday concern see demand increasing this winter and early next year althogh German visitors no longer top the league of foreigners travelling to Cuba.

A total of 124 527 German tourists came to Cuba in 2005. But in the past few years holidaymakers from Canada, Britain, Italy and France have been more numerous.

Continued growth in the industry attracts an increasing number of young Cubans into the hotel and tourist trade, and jobs at establishments run in conjunction with foreign companies are particularly sought-after.

A waiter or room attendant at "Sandals" can expect to earn more than the basic sector wage of 300 Pesos (about R100), depending on the briskness of business and the number of guests staying. This bonus amounts to as much as 50 convertible pesos or (CUP) a month, namely more than $50 (about R370). By comparison, a teacher has to make do with €20 (about R190) a month or even less.

The CUP has no value outside Cuba and it has been used by tourists as payment since autumn 2004. It is pegged to the US dollar which is no longer accepted as legal tender. In Varadero, many traders accept euros.

A similar pay structure for local workers exists at the rival Jamaican "SuperClubs", where a beachball game is currently in full swing with a Cuban flag as a backdrop. "Hard work is rewarded and the employees enjoy a share of the profit," said Reynaldo Costa, 49, sales manager at the "Breezes Jibacoa".

The appropriate qualifications and "at least one foreign language" are prerequisites for a job at the hotel, says Costa who has been in the tourist industry for more than 30 years. The complex is owned by Cubanacan and an Italian construction and equipment company.
Source: DPA
---
Related News
---