Cuba Is in Heart of "a Great Pope," Says Nuncio
Submitted by: admin

11 / 01 / 2006
---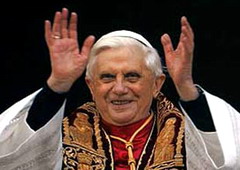 Cuba holds a special place in the heart of Benedict XVI -- "a great Pope" -- says the apostolic nuncio to Cuba.

Archbishop Luigi Bonazzi, speaking to the plenary assembly of the conference of religious of Cuba in Havana, communicated to the religious superiors the personal greeting that the Pope extended to the Catholics of the nation during a private audience in the Vatican on Aug. 28.

Benedict XVI customarily receives nuncios at the end of the general audience on Wednesdays. Archbishop Bonazzi said of the 20-minute private audience: "It was a rather singular event, certainly a sign of the Pope's special concern for Cuba."

"We are in the Pope's heart, I can assure you. In the heart of a great Pope, with which the providence of God is blessing the Church and the world," he said.

Regarding the meeting, the nuncio said that he "answered questions and expressed some reflections on the socio-political situation of the country, and especially on the life of the Church."

"Today, in my mission, I feel very supported and strengthened by Benedict XVI's words to me," he added.

According to Archbishop Bonazzi, Benedict XVI's words are "profound and luminous, they satisfy the intelligence and console the heart."

Therefore, he exhorted Cuba's religious "to favor listening to the word of the Pope, to give this word a preeminent place among the sources to which they take recourse to nourish their prayer, to cultivate the spirit and to make evangelization and mission incisive."

"Let's not miss this occasion to walk in history accompanied by an exceptional teacher and witness of the faith," the prelate urged.

To this end he announced that the apostolic nunciature will use the Internet to provide the conference of religious "the Pope's word that has a particular relation and relevance to the religious life."

Vocation question

Archbishop Bonazzi also talked to the men and women religious of the "the 'vocational question,'" which he identified as a fundamental pastoral priority for the Church in Cuba.

There are 11.3 million inhabitants in Cuba. Before Fidel Castro took power in 1959, Catholics comprised about 85% of the population; now it is estimated that the figure has decreased to 50%.

According to data gathered by the nunciature, there are 189 men religious, 606 women religious, 206 diocesan priests and 61 permanent deacons.

The papal representatives thanked the Lord for these "generous servants," and asked that all faithful make their own "every day and with insistence, the Lord's prayer of the harvest, so that he will send laborers to his harvest."

Archbishop Bonazzi assured the men and women religious of his support in prayer and work "to favor the birth and growth, discernment and support of vocations."

The nuncio encouraged the religious in their mission, and encouraged them "to live friendship with Christ."

He added that "only in this friendship do we experience what is beautiful and what makes us free."
Source: Zenit News Agency
---
Related News
---