Cuba eyes more cows from state
Submitted by: admin

11 / 03 / 2006
---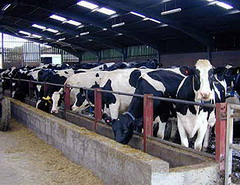 More Vermont cows could be making their way to Cuba next year as that country continues to rebuild its dairy and beef cattle industries.

"In the spring, Cuba intends to buy more dairy cattle," said John Parke Wright IV, the Florida cattle broker who arranged the first sale of Vermont cows to Cuba two years ago.

While not committing to a certain time frame, a top Cuban trade official said his country would welcome more trade with the United States and Vermont.

"We are always looking to buy more cattle and the U.S. could be the largest supplier of cows to Cuba," Pedro Alvarez, head of Alimport, said Wednesday on the third day of the 24th annual International Havana Trade Fair.

Like other Cuban officials, Alvarez said the 45-year-old trade embargo continues to make even limited U.S. trade with Cuba difficult, if not impossible.

Since 2001, only food and agricultural products can be exported from the U.S. to the communist island of 11.4 million people.

The 76 Vermont Holstein and Jersey heifers arrived at the Niña Bonita farm outside Havana last August. So far, Cuban officials are pleased with the cows' performance and their offspring. They say the cows are in good health and are continuing to adapt to Cuba's hot and humid climate.

The Vermont cows were not only purchased for their milk production but for their breeding, which is a high priority for the Cuban government.

"They are animals with very good genetic potential," said Roberto Hernandez Antunez, the Niña Bonita Farm manager.

In addition to supplying fresh milk, the cows also provide milk for Niña Bonita farm brand ice cream and yogurt.

At a luncheon this week at the farm, desert was ice cream made with milk from Vermont cows.

The high regard the Cuban government has for the Vermont livestock also comes from Guillermo Garcia Frias, one of the government's top leaders and a close associate of Fidel and Raul Castro.

Raul Castro assumed temporary power this summer from his ailing brother, Fidel, who continues to recover from surgery for an undisclosed illness.

During a meeting this week with Wright and several U.S. businessmen, Garcia Frias, who oversees the country's farmland and environment, called the genetics of the Vermont cows "very good."

He, too, said Cuba was eager to do more such business with the United States.

Vermont's trading ties with Cuba began three years ago when Lt. Gov. Brian Dubie returned from a trade mission to Havana with memoranda of understanding from Cuba to purchase cows, apples and dry milk.

The Cubans carried through, purchasing cows and more than $6 million in dry milk. The purchase of 4,000 bushels of apples, however, fell through in part because the U.S. State Department delayed issuing visas for Cuban inspectors to visit Vermont, said state Agriculture Secretary Steve Kerr.

Through the years, the U.S. government has defended the embargo as a way to bring an end to the Castro dictatorship. The Bush administration in particular has tightened the economic noose, adding further restrictions and stepped up enforcement of the travel ban on U.S. citizens.

Interest in buying Vermont cows goes beyond the Cuban government.

The head of the Catholic Church in Cuba is considering acquiring a small number of cows as well.

"The new seminary we're building now is interested to have cows for the seminarians," said Cardinal Jaime Ortega, who stopped by Wright's booth at the fair.

"Hopefully our friends in Vermont can help the cardinal," Wright said.
Source: Time Argus
---
Related News
---