Cuba eyes increased rice output and less imports
Submitted by: admin

11 / 24 / 2006
---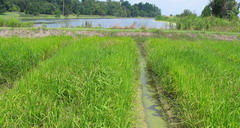 Cuba hopes to take advantage of improved weather to increase rice output and reduce record imports in the coming years, state-run Radio Reloj reported Thursday.
"This year the state sector will harvest 61,000 tonnes of rice and the popular movement 141,000," the report said, similar to 2005.
Cuba has nine large provincial state farms with a capacity of 250,000 tonnes and has been developing municipal level farm and cooperative rice production, the so-called popular movement, with technical assistance from China and Vietnam.
"According to government plans output should tipple by 2015 ... unless there is an intense drought," the report concluded.
Rice is the Caribbean island's main staple with its 11.25 million residents and 2 million tourists consuming around 1 million tonnes annually, according to the government, of which 500,000 tonnes is rationed to the population at subsidized prices.
Rainfall over the last six months has ended the worst drought in a century that devastated the rice growing eastern and central parts of the country, forcing Cuba to double imports from around 350,000 tonnes at $85 million in 2003 to 700,000 tonnes at $246 million in 2005, the government said.
Most of the rice, some 500,000 tonnes, was from Vietnam with preferential financing, while the remainder came mainly from the United States for cash under an exception to that country's trade embargo on the Communist-run Caribbean island.
Source: Reuters
---
Related News
---