Cuba develops new low cost nutritional algae
Submitted by: admin

03 / 04 / 2007
---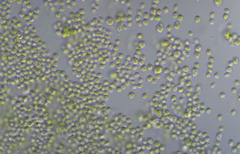 Cuban scientists have developed a new technology for the producing the micro alga (chlorella vulgaris) used as component in diet supplements and food complements.
The new culturing technology, developed in the laboratory, has been replicated in a field of approximately 3.5 square kilometres enriched with farmyard and sugar industry waste, bringing down the cost of the process.
The head of the project, carried out at the Solar Energy Research Center of Santiago de Cuba, Magdalena Quintana, told the Cuban News Agency that the chlorella vulgaris is rich in proteins, vitamins and other nutrients.
A master in Biotechnological Sciences, Quintana said the micro-organism was tried in diet supplements in different formulas, adding that it proved very efficient as a nutritional complement for chickens and buffalo.
This type of micro algae is characterized by an intensive reproduction process and it can be produced in low-yield fields, explained the scientist.
The results of the research, which is the first of its type in Cuba, will be published later this year as a seven chapter book for both scientific and educational use. The material covers information about the cultivation of the micro alga in labs and in the recently developed outdoor field.
It also includes the use of the micro-organism for the production of medicaments and human and animal nutritional supplements. In addition, the book contains an economic analysis of the feasibility of the culturing technology and its benefits to the environment.
Source: ACN
---
Related News
---