Cuba denounces Saddam Hussein's execution
Submitted by: admin

01 / 02 / 2007
---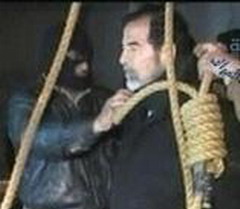 Cuba on Monday criticized the hanging of former Iraqi president Saddam Hussein as "an illegal act," calling for an end to the U.S.-led war in Iraq.
"It is political foolishness, an illegal act in a country that has been driven to an internal conflict in which millions of citizens have been exiled or lost their lives," said the Foreign Ministry in a statement.
The statement published by local media said that Cuba "has not yet abolished the death penalty because of the brutal war imposed on it by the United States."
However, it has a moral duty to condemn the slaying of Saddam as "an assassination committed by the occupying power," it added.
The statement said it is now time that "hundreds of thousands of young Americans stop dying or suffering the sequels of war."
Saddam, born on April 28, 1937 and deposed in the U.S.-led invasion of Iraq in 2003, was executed by hanging at dawn on Saturday for crimes against humanity.
He was handed over to the Iraqi authorities on Friday, from a U.S. camp near Baghdad International Airport where he had been held.
---
Related News
---