Cuba defends its rights to Cohiba Cigars
Submitted by: admin

11 / 09 / 2006
---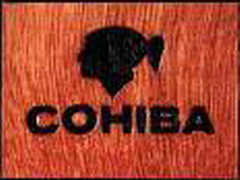 Cuba is determined to stand up for its right to the Cohiba Cigar brand, which American transnationals are trying to seize with the help of the Bush administration, said Habanos S.A Vice President Manuel Garcia.
The executive of the joint venture, a world leader in the distribution of the famous Cuban cigars, pointed out that it is a matter of principles to continue defending the Cuban hallmark "whenever there is a legal framework where we can claim our product."
In a press conference, Garcia explained that the Cohiba brand was created by Cubans, "along with the Revolution," adding, "we will continue fighting for our right," reported the Opciones weekly newspaper.
He explained that the companys sales have continued a steady rise over the first nine months of this year, and the results for this period are even better than expected, despite the strong worldwide campaign against smoking.
Garcia said that even though various European countries have been implementing measures against the habit, the Habanos Corporation has grown in relation to the same period last year.
During the press conference, the executive announced the celebration of the 9th Festival of the Habano, which will kick off February 26, 2007. He said the event will be led by the Cohiba, Montecristo, Romeo y Julieta, Partagas, Hoyo de Monterrey, H. Upmann and Jose L. Piedra brands.

Experts and regular participants "including smokers, cigar dealers and Habano lovers" have named the Habano Festival the worlds most important public relations event in the arena of premium cigars.

Garcia told the press that Cuba has been able to introduce itself in all markets of the world except the United States, where the Cuban cigars can not be marketed because of prohibitions against US trade blockade with the island.
---
Related News
---