Cuba defends Intercontinental Cup
Submitted by: admin

11 / 20 / 2006
---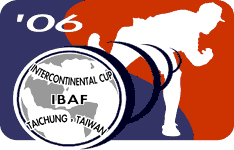 Champion Cuba defended its Intercontinental Cup baseball title Sunday, beating the Netherlands 6-3 in the final in Taiwan.
This marks Cuba's 10th win out of the 16 Intercontinental Cup tournaments since the tournament was launched in 1973.
Taiwan beat Japan 4-0 on the final day of the 16th Intercontinental Cup baseball games in Taiwan on Sunday, to take third place in the eight-team tournament.
Taiwan racked up 10 hits including two home runs, while holding Japan to only four hits.
The shutout ended Japan's 11-win streak over Taiwan in previous Intercontinental Cup games, and boosted Taiwan's confidence for the December 1-15 Asian Games, in Doha, Qatar.
"This is an important victory for Taiwan and has improved our chance of beating Japan and South Korea in the Asian Games, but we must beef up our strength because the Japanese and South Korean teams will also make adjustments after this tournament," baseball analyst Cheng Hsing-sheng said on cable TV channel TVBS.
Japan is Asia's best baseball team and one of the best in the world. Japan beat Cuba 10-8 in the World Baseball Classic held in the U.S. in March.
Also on Sunday, Australia beat Italy 3-2 to win fifth place while South Korea beat the Philippines 5-1 to win seventh place in the eight-team tournament.
The tournament is being held at two stadiums in Taichung City, central Taiwan, with the opening and closing ceremonies held at the newly built 15,000-seat Intercontinental Stadium.
The International Baseball Federation introduced reforms this time around to shorten the duration of the games, in an effort to win back the sport's inclusion in the Olympic Games, after being dropped.
The timing between pitches has been reduced from 15 to 12 seconds; pitchers have four instead of eight pitches per batter; and an intentional pass only requires one pitch instead of four.
Source: The China Post
---
Related News
---