Cuba and Brazil increase trade
Submitted by: admin

11 / 05 / 2006
---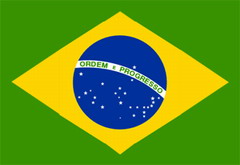 RAISA PAGES
"Trade between Cuba and Brazil has already reached $352 million USD this year, a figure which surpasses that achieved in all of 2005 and demonstrates the business potentials between the two countries," said Cuban Deputy Minister of Foreign Trade Pedro Luis Census and Tilden Santiago, the Cuban ambassador to Brazil.
Celebrating Brazil Day yesterday at the 24th International Trade Fair in Havana, Padron applauded the presence of a MERCOSUR (South American Common Market) stand at the Brazil pavilion (Brazil currently holds the MERCOSUR presidency). Cuba signed a wide ranging agreement with the regional trade organization that, once in effect, will increase the islands commercial integration with the enormous Latin American market.
Santiago said that MERCOSUR, with the entrance of Venezuela, is a potent commercial zone, home to 250 million people.
"The strengthening of MERCOSUR is one of the main challenges of the region," pointed out Brazils ambassador to Cuba, adding that only through unity can there be a reduction in the economic asymmetries that characterize Latin America.
CUBAN "POPULAR" CIGARETTES A HIT IN SPAIN
The Cuban-Brazilian company BrasCuba, a marketer of black tobacco cigarettes, yesterday celebrated its tenth anniversary with the announcement that the Popular cigarette brand has been well-received by European smokers. In Spain, for example, it is the third highest-selling brand of cigarettes of its type.
In terms of new brands, close to two billion cigarettes are manufactured annually, of which 1.5 billion are sold in bordering markets in hard currency, indicated Brascuba co-president Antonio Carlos Pereira; the rest are exported to Spain, Japan, Switzerland, Canada. He said that due to the commercial rights to sell Cohiba cigarettes around the world, the company will now be able to export to Portugal, England, South Africa and Hong Kong.
The management of BrasCuba is now looking to obtain an export quota in China, a huge market for the sale of authentic Cuban black cigarettes.
Source: Granma
---
Related News
---