Cuba adjusting to a changing sugar industry
Submitted by: admin

10 / 31 / 2006
---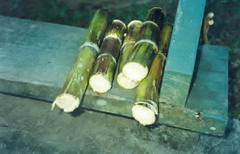 "Our goal is to listen to the 15,000 professionals and 50,000 technicians working in the Sugar Ministry [only 20 percent of which are ATAC affiliates] and to expand and promote efficiency in production and services," said ATAC President Tirso Saenz Coopat.
In an effort to revamp an industry that is considerably different from that of the 80s and 90s, ATAC is working closely with active technicians and those who are studying and retired. Nobody will be excluded from the tasks they must fulfil because the more heads working together the better.
The association has modestly fulfilled its work in support of the technician, but today it needs to know more about the difficulties, aspirations and initiatives and be more creative, bold and flexible.
Coopat said that with the existing potential of knowledge they can give much, but they must admit that they are doing less than is possible.
He explained that sugar represents 7 percent of the food energy consumed by people worldwide, but today sugar also has an important role as generator of clean electricity and as a raw material in alcohol production. It could replace or alleviate the shortage of fossil fuel in combinations with gas, and guarantee a cleaner environment.
The almost 400 delegates at the congress that will be held from November 1 to 3 in Santiago de Cuba, have the responsibility of agreeing work plans to achieve a flexible and self energizing industry, capable of producing sugar and alcohol using only sugar cane bagasse and residue of the harvest as fuel. It could give part of that energy to the National Grid System (SEN in Spanish). Saenz acknowledges that it is a technical challenge but not a chimera.
The provincial conferences tackled the economic and strategic importance of producing alcohol, electric power and sugars with quality and in sufficient amounts for both the internal and external markets. This must be done rationally, which means searching for high agricultural, industrial and energetic efficiency.
One of the main objectives of the congress will be to promote the flexibility of the industrial facilities, and to make Fidel Castros dream of turning every sugar mill into a bioenergetic and comprehensive complex in production all year round come true.
A future of infinite possibilities that can not be wasted is opening to the sugar technicians. "Lets forget about the prices in the international market," said the president of the ATAC "lets think of a big bioenergetic complex where nothing is lost, in a brand new era of quality not only for Cuba, but for the world."
Peter Baron, executive secretary of the International Sugar Organization (ISO), highlighted that only recently has sugar been seen as an extraordinary raw material, supplier of a wide variety of industries because of the derivative products it can provide.
He added that now is the moment for sugar, syrup and ethanol. The technicians face the challenge of working to improve the technology, invest, do research, reduce production costs and establish national strategies.
What should be done in a changing sugar industry? The president of the ATAC says "We must not be tied to just one product, we must use the tools of science with a unique goal: protect sugar cane production and achieve a diversified and flexible industry capable of moving quickly to what is economically more profitable for the country."
Source: Granma
---
Related News
---