Cruel end for Peru as Cuba goes through at Volleyball World Champs
Submitted by: admin

11 / 06 / 2006
---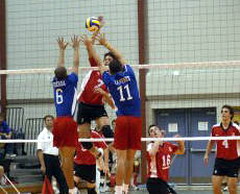 Peru's Volleyball women were eliminated after the first round at the 2006 World Championships in Japan. In what turned out to be another nailbiter, the "Blanquirroja" lost its final game in Group D against Cuba by a score of 2:3 sets.

With this cruel loss, Peru finished 5th in its 6-team group and can book its tickets home. Only the first four teams advance to the second round.
Official game report:
Cuba clinched their place in the second round and eliminated Peru after a cool-headed comeback win in Pool D.

Peru, backed by a raucous crowd in Nagoya's Rainbow Hall, twice held a one-set advantage as they went in search of qualification for the second round.
Turkey's loss to Serbia and Montenegro earlier in the day had offered them a glimmer of hope, but the South Americans knew only a win over Cuba would be enough to give them a chance.

In the end the Cubans kept their nerve, reigniting their stop-start campaign with a 22-25, 25-16, 17-25, 26-16, 15-10 victory, and sending the Peruvians home with yet another crushing defeat.

The horns, whistles and chants from the Peru fans looked to have Cuba rattled in the early exchanges, as the Peruvians took a 3-1 lead in the first set.

Captain Leyla Chihuan could have been forgiven for thinking she was back in Lima as the crowd erupted when she claimed her first point of the match. But Daimi Ramirez showed Cuba could cope with the noise, blasting her side back into the match at 10-10.

Peru had suffered two heartbreaking defeats in their previous games, losing leads against both Serbia and Montenegro and Turkey to post a 1-3 win-loss record going into the match.
And they were clearly determined to make it third time lucky, taking a 16-14 advantage into the second TTO.

Cuba coach Felipe Calderon called a time-out as the South Americans added further points, but a deft Mirtha Uribe touch then took Peru into double figures. Milagros Moy added another point with an unreturnable smash, before a Natalia Romanova spike brought Peru two set points. Uribe took the first one, spinning to fire the ball down and send the Peruvian fans wild.
Cuba began the second set desperate to draw level as soon as possible. Nancy Carrillo, and then Yanelis Santos with a block, fired the Cubans in front with ruthless efficiency. Chihuan brought Peru level, but Cuba then powered into the first TTO 8-5 ahead. Big hits by Romanova and Patricia Soto kept the South Americans in touch, but a Yenisei Gonzalez block at the net underlined the size of the task they were facing. A Rosir Calderon spike brought Cuba to double figures, and a block from the same player offered the chance to take the set at 24-16. Uribe aimed her return too long, and Cuba were back on level terms.

Calderon was a constant threat down the left flank as the match resumed, but Chihuan managed to get a block in front of one of them eventually as Peru took a 6-4 lead. Romanova then increased the lead to 11-6 with another missile, as Peru's confidence began to rise. Moy skimmed a shot off a Cuban arm as Peru advanced to 20-13, before Soto added another. Chihuan played in a perfectly weighted serve to give the South Americans set point, but was not so accurate the next time as she hit long. Cuba fended off another three attempts to clinch the set, before Yaimi Ortiz was unable to return and Peru regained the lead.
Cuban captain Yumilka Ruiz looked to make amends with a venomous spike at the start of the fourth set, but Peru refused to yield. However, Ruiz and Calderon were relentless in their attacks, and Cuba led at the second TTO 16-10 before Peru had a chance to recover. Veronica Contreras scored a delightful overhead tipped shot as Peru looked to hold the Cubans back, but before long Ramirez had brought Cuba to set point at 24-14. Moy resisted the first wave, but Uribe served long to bring Cuba level and sow the seeds of doubt in Peruvian minds that another lead may be about to slip through their fingers.

Cuba had the bit between their teeth, and surged into a 6-2 lead in the final tie-break set.
Chihuan was giving her all to push for the victory, but Calderon and Carrillo were firing on all cylinders. Soto went crashing into the substitutes' bench in a desperate attempt to keep the ball alive, but a tip into the net by Carrillo gave Peru a chance at 11-9 down. An error from Peru gave Cuba match point, but the South Americans managed another scrambled escape.
But with the opportunity to secure Cuba's qualification, substitute Kenia Carcases made no mistake at the next attempt.

Cuba coach Felipe Calderon said: "It was hard to start the games against well-prepared teams. Peru is a good team with a lot of experience."

Cuba captain Yumilka Ruiz said: "It was a little bit tough to play in front of a lot of Peruvian supporters. I am satisfied that we played a good game."

Peru coach Carlos Aparicio said: "We lost the final set in three games in a row. I feel we need more international games, because we have have a long way to go before we get the glory."

Peru captain Leyla Chihuan said: "On behalf of the team, I apologize to the nation of Peru that we were eliminated. I led the team as the captain. We need more practice."

---
Related News
---