Compay honored in Santiago de Cuba
Submitted by: admin

11 / 20 / 2006
---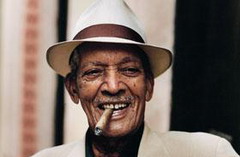 As one of the most authentic exponents of Cuban traditional music, it was honored in this capital troubadour Francisco Repilado (Compay Segundo), during the opening ceremony concert celebrating the centenarian of his anniversary of birth.
Sala Dolores became the scenario to preserve that composer and clarinetist musical legacy, who was born November 18, 1907 in Siboney town, Santiago de Cuba province.
In this first ceremony to celebrate Compay's 100 years, Western Orquesta Sinfonica, Compay Segundo group and Madrigalista chorus got together to celebrate it, under shared direction of masters, the Cuban Daniel Guzman and the Italian Estefano Mazzoleni.
The occasion was propitious to recall Cuban and Creole art of this Buena Vista Social Club celebrity, and to fuse together symphonic instruments sounds with the ones typical of Cuban popular music, as well as classical songs from Italian nation.
Cuban musicologist and investigator Jesus Gomez respected the memory of Segundo and shared with the public anecdotes of whom was abnegation at work and patriotic vocation example, professor of new generations and culture and national identity representative.
This concert began with the famous musical composition Chan Chan, besides music from Repilado like Macusa, Se seco el arroyito, Lupina, Las flores de la vida, Se perdio la flauta, El calderito de tostar cafe, among others.
It was also applauded soloist Italian Francesco Grollo for his brilliant performance and interpretation of Cuban musical pieces like Dos Gardenias of Isolina Carrillo, Las flores de la vida of Francisco Repilado and others of his own accompanied by European guitarist Massimo Scatolini.
This ceremony on occasion of Compay Segundo centenarian anniversary of birth will conclude November 2007 and includes concerts, arts expositions, national tours, theory meetings and other activities in memory of who just a few years ago was the most famous and older troubadour of the world.
Source: Prensa Latina
---
Related News
---