Cohiba Maduro launched at Cuba's Habano Festival
Submitted by: admin

02 / 27 / 2007
---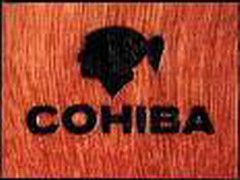 Cohiba number five, the new line of that renowned Cuban cigar, was presented Monday night during the welcoming ceremony for the 9th Habano Cigar Festival underway in this capital.
The presentation was made before 1,300 visitors from over 60 countries around the world.
Vice-president of the Cuban-Spanish corporation Habanos S.A., Manuel Garcia, defined this project as most important for the company at this time.
He pointed out that the new product brings together the best characteristics of the Cuban cigar manufacturing tradition which is based on the careful selection of tobacco leaves and a complex process of fermentation over five years.
According to Garcia, this year three cigar brands -Genio, Magicos and Secretos- will be sold in wood boxes of 10 and 20 units.
The ceremony included a music and dance show to present the new images of outstanding brands of Habanos S.A. Cohiba, Montecristo, Partagas, Romeo and Juliet, Hoyo de Monterrey, and H.Upmann.
During the activity, co-presidents of Habanos S.A. Oscar Basulto and Buenaventura Jimenez welcomed the participants to the festival and explained the portfolio of the company.
Habanos S.A. commercializes over 240 formats of Cuban cigars under 27 Premium brands (of hand-made cigars) in over 120 countries around the world.
Source: ACN
---
Related News
---