Chris Cornell was honored to perform in Cuba
Submitted by: admin

01 / 03 / 2007
---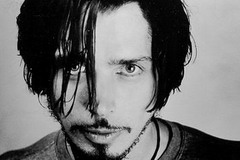 Audioslave singer Chris Cornell still feels honored to be a member of the first U.S. band to play in Cuba for 26 years, and he'd love to perform there again. The rockers played the historic gig in Havana on May 6, 2005, and the enthusiasm of the Cuban audience made Cornell realize how lucky fans in other nations are to see bands play on a regular basis.
He recalls, "We didn't know we were going to be able to play until 24 hours before we left. We weren't allowed to tell anyone we were going. We performed for 70,000 fans in an outdoor area intended to host anti-imperialist rallies. We were one of the only rock groups to ever play there. People were still wearing Manic Street Preachers T-shirts from when they
had played there five years ago.
"You couldn't help feeling spoiled, realizing that most citizens from most countries can see any band they want. I found no signs of hostility whatsoever. I would love to go back."
Source: Starpulse News Blog
---
Related News
---