Caravan to Cuba calls for volunteers
Submitted by: admin

02 / 10 / 2007
---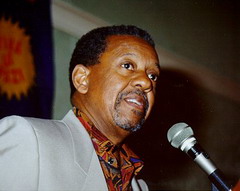 In November 2006 the countries in the United Nations General Assembly once again voted overwhelmingly (183-4) to call for the end of the US blockade against Cuba. We know that many members of Congress are deeply unhappy with this US policy. We can expect to see legislation introduced this year to remove some aspect of the blockade or travel ban. Meanwhile the Bush administration continues desperately to look for more ways and dirty tricks to force the Cuban people into surrendering to US domination.
We think that the tide is turning in the US against the blockade, but this issue cannot be left to the politicians, we must take the lead and challenge them by implementing a People to People Foreign Policy that calls for the total abolition of the blockade.
Which means that we in IFCO/Pastors for Peace are building for the largest possible US-Cuba Friendshipment Caravan in July of 2007. As many people, vehicles, tons of aid, caravan outreach events, and media stories as we possibly can.
The timing of the caravan this year means we will be in Cuba for the July 26th celebrations. Our caravans theme this year will be a dedication to Cubas elders, celebrating that so many Cubans now live to an advanced age, and honoring the work that is done to meet their social, health and educational needs. But we know also that many of our caravanistas will be young so we will make sure that there are plenty of opportunities to meet with young Cubans as well.
In Cuba with us will be other travel challenges undertaken by the Venceremos Brigade, the US-Cuba Labor Exchange and the African Awareness Association. On July 28th, we will all return to the US proudly acknowledging that we have challenged the US travel ban.
That's the intentions - but it needs our supporters, our network, to make it happen.
It needs people like you to come on the caravan as a caravanista either within the US and/or to Cuba - we want people to come to Cuba with us, but if thats not possible we also want supporters to be there with us at the border crossings.
To spread the word to your friends, neighbors, colleagues or congregation - we can provide flyers to circulate. To host a caravan event in your community and to get the media involved - if you are interested in this we can put you in contact with other interested people in your community
Visit
http://www.pastorsforpeace.org
or contact
cucaravan [at] igc.org
for application forms and/or information on being a caravanista or if you want to get involved in hosting or contributing material aid.
The full program is:
July 1-12: Educational presentations and aid collections throughout the US and Canada
July 13-18: Participant orientation in Texas. Border crossing into Mexico. Travel to Tampico, Mexico
July 19-26: Fly to Havana for Caravan educational program in Cuba.
July 27: Return to Tampico and travel to Mexico/US border
July 28: Reverse challenge; cross the Mexican border into the US.
$$$$$$$$$$ Of course cash is always needed to finance this ambitious project
To make a financial donation - checks or money orders should be made out to IFCO and mailed to our New York office, or you can phone the office (212-926-5757) to make a credit card donation. You can also make a credit card donation on-line via our website
http://www.pastorsforpeace.org
IFCO has 501(c)3 status so donations are tax-deductible and a receipt can be mailed to you for use in preparing your income tax.
Interreligious Foundation for Community Organization
418 W. 145th St., New York, NY 10031
Ph: 212-926-5757 Fax: 212-926-5842
http://www.pastorsforpeace.org
cucaravan [at] igc.org
IFCO/PASTORS FOR PEACE
C/o The Latin American School of Medicine
http://www.ifconews.org
418 W 145th Street, New York, NY 10031
tel: 212.926.5757 - fax: 212.926.5842 - email:
ifco [at] igc.org
Source: Santa Cruz ICM
---
Related News
---