Bust of Botswana Leader unveiled in Havana
Submitted by: admin

06 / 20 / 2007
---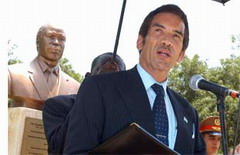 Botswana's vice-president, who arrived in Cuba on Saturday on an
official visit, stated that the people of his nation are deeply honored by the unveiling of the bust of Seretse Khama, the first president and founding father of Botswana, in a park symbolizing the friendship and solidarity of the peoples of Africa and Cuba.

The Botswana leader said the fraternal ties between Cuba and Botswana continue to strengthen. He praised Cuba's generous spirit and unselfish aid to developing countries, reported Granma newspaper.

The ceremony took place in the Park of the African Patriots, located at 13th and 66th streets of Playa municipality in the capital. It was attended by Jorge Risquet, member of the Central Committee of the Communist Party, Enrique Roman, first vice-president of the Cuban Friendship Institute, Marcos Rodriguez vice-minister of Foreign Affairs and Rodolfo Puente Ferro, President of the Cuban-African Friendship Association. A large group of African diplomats and members of different Cuban institutions were also present.

Enrique Roman recalled that during his presidency, Seretse Khama had to live through the difficult times of the neighboring country, the racist and brutal South Africa under Apartheid, and how the African leader maneuvered within the framework of international principles to maintain the integrity of the nation that he dreamed about, struggled for and devoted his work until his death.

Roman said the great virtues that Khama taught his nation were modesty, austerity and honesty, and explained to the audience that in his Tswana language his name means "the clay that unites." This, added Roman, was precisely one of his historical merits, creating a united homeland for the Tswanas of all ethnic origins, races and religions.

In the morning, the vice president of Botswana paid tribute to Cuban National Hero, Jose Marti, accompanied by Marta Lomas, Cuba's Minister of Foreign Investment and Economic Cooperation.
Source: ACN
---
Related News
---