Bulgaria presents milk to iron at Havana Trade Fair
Submitted by: admin

11 / 02 / 2006
---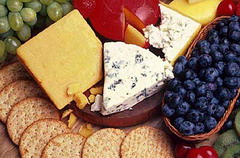 A varied range of Bulgarian dairy products (including yogurt) and iron materials attracted the attention of visitors at Havana s 24th International Fair (FIHAV 2006) Wednesday.
Bulgarian commercial experts Virginia Todorova and Petia Stefanova told Prensa Latina their company, LB Bulgaricum, is specialized in a wide variety of dairy products, such as cheese and yogurt.
Their products are based on old traditions using modern technology for functional food, and their products are registered in 16 countries, for example, 24 million Japanese buying Bulgarian yogurt every morning.
LB Bulgaricum offers a food line for sportsmen called "LB Sport" in collaboration with the Center for Medical Recovery and "Diana Sport" in Bulgaria.
Bulgarian firm KCM 2000 SA s public relations specialist Mara Rusinova said her company produces iron material as well as 80,000 tons of zinc and 65,000 tons of lead -- and wants to make contact with Cuban and Latin American enterprises.
Experts from both companies expressed their pleasure at participating in FIHAV 2006, and appreciated the possibilities offered by Cuban foreign trade.
Source: Prensa Latina
---
Related News
---