Box office hit "Vampires in Havana" now in print
Submitted by: admin

03 / 09 / 2007
---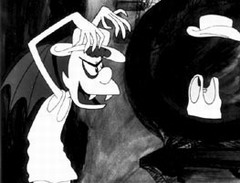 Well-known Cuban artist and filmmaker Juan Padron presented his first humour novel, Vampires in Havana, after the successful animated feature film by the same name.
Published by editorial house Abril during the Cuban International Book Fair, the novel includes many full-color illustrations by the author of the legendary Cuban independence war Col. Elpidio Valdes.
There is a novel in preparation named Elpidio Valdes Versus Dollar and Cannon, with a similar story to that of the homonymous film, a book to have over 100 illustrations.
According to the publishers, the volume in preparation becomes a master conference in Cuban history, by the way of approaching the subject, very attractive for children and adolescents.
Surrounded by an audience mainly composed of children, Padron confessed how hard it was to write. That's how I realized why Garcia Marquez took so long in publishing his summit novel, A Hundred Years of Solitude.
As he commented he got a big kick writing the text of Vampires, Padron said he can draw faster than he can write.
When I thought I was a made writer, waking up at 5:00 every morning to seat before the computer, then I knew -from the publisher- I would have to start from zero, he said.
Padron assured that in spite of the stumbles and falls, both novels could be enjoyed by any audience, because it had that good native humor sparkle.
Editorial house Abril made available to readers another two titles of absolute lure: The Birthday of Coco Island (El cumpleaños de la isla del Coco) by Jorge Oliver and Songs and Colouring Book.
The latter is a copublished edition with the Animation Studios of the Cuban Institute of Art and the Cinematographic Industry (ICAIC in Spanish).
The first celebrates the 25th Anniversary of the leading role, Captain Plin, created by Oliver. The other offer proposes the rescue of children songs through a combination of printed cartoons and over 20 animated video clips produced by ICAIC.
Source: CubaNow
---
Related News
---