Bolivian president meets with Fidel Castro
Submitted by: admin

06 / 08 / 2007
---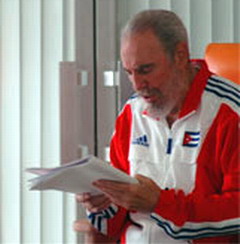 Bolivian President Evo Morales met with Fidel Castro for nearly three hours Thursday and said the convalescing Cuban leader looked well.
``He looked very recovered to me,'' said Morales, who also found the time to play racquetball with Vice President and Cabinet Secretary Carlos Lage, and meet with Castro's brother Raul, Cuba's interim president, during his previously unannounced daylong trip to Havana.
``I am very satisfied,'' Morales told state media before boarding his flight home Thursday night. ``I am very much an admirer of Fidel.''
Morales predicted more meetings with the Cuban president, saying ``I am sure we will continue talking. He told me, 'Come back anytime to continue chatting, and debate important themes for humanity in any part of the world.'''
Castro on Thursday issued a new essay that lambasted President Bush, accusing him of trying to deceive Pope Benedict XVI into believing the U.S. has done nothing wrong in Iraq.
``Bush is trying now to fool Pope Benedict XVI'' Castro wrote. He predicted that during his visit to the Vatican this week Bush would tell the pontiff, ``The Iraq war doesn't exist, it hasn't cost a cent, there's not a single drop of blood. And hundreds of thousands of innocent people have not died in a shameful exchange for petroleum and gas.''
Castro also warned of another possible war against Iran, ``possibly including nuclear tactical blows to impose the same shameful recipe.''
Photographs distributed by Morales' office showed him meeting with Castro's brother Raul, the 76-year-old defense minister and acting president, after his morning arrival. The images also showed Foreign Minister Felipe Perez Roque and Lage, who Cuban state media said greeted Morales at the airport.
One photo showed a smiling Morales and Lage, both in athletic clothes and holding rackets on a racquetball court.
International reporters were not given access to Morales' arrival or meetings.
Castro has not appeared in public for more than 10 months, since he announced he had undergone intestinal surgeries and was stepping aside in favor of a government headed by his brother. As he recovers, Castro has been seen only in still photographs and videotapes released by the government.
A story announcing Morales' surprise visit appeared Thursday morning in the Communist Party newspaper Granma, which said the Bolivian president's trip ``constitutes a new demonstration of the solid ties of friendship and solidarity that unite our people and governments.''
Senior officials have repeatedly said Castro is on the mend, although he recently acknowledged that his recovery has been delayed because one of his first operations did not go well.
The bearded revolutionary has been more active of late, writing more than a dozen essays on international issues and appearing in a 50-minute taped interview on state TV on Tuesday.
Source: By Anita Snow, AP, Guardian Unlimited
---
Related News
---