Bohío and Batey
Submitted by: admin

11 / 10 / 2006
---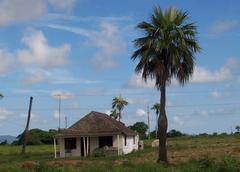 Bohío is the name of the Cuban typical house heritage of the most developed culture among the aboriginal groups in the country. Batey is the term that denominated the settlement where the bohios were built. Both are still part of the rural life in the country.
There were two types of bohíos: the circular , with a roof in the shape of a cone that was called Caney, this is not built anymore and the rectangular called bohío with roofs to two and four slopes and with variable sizes according to the number of people that are going to live there. Both are built with complete natural materials.
Tough wood sticks are used to build the supporting structure of walls, interweaving them with ariques and lianas and wooden sticks fixed horizontally like reservoirs. The same method is used for the roofs that are covered by guano (the leaf of the royal palm) while the walls were covered vertically by royal palms and a wide and impermeable vegetal layer that holds to the stem of this palm.
Although we can find one or two identical to the first ones, the current typical peasant houses have a greater durability. Today their supports are fixed with nails and their walls are made of Royal Palm boards. The roofs can be made of guano or by Creole mud tiles. Their space distribution include a doorway over four or six wooden posts, a living room, a dining room, a kitchen and two bedrooms in a rectangular unique development.
Batey was the name of the square that was in front of the cacique house in the tainos settlement in Cuba. It was an open space where people worshiped to he cemí their deity par excellence and in the entertainment days, the inhabitants played bato (baseball) and the celebrated their areítos (parties).
However, todays batey does not have much to do with that original conception of tainos. This term is currently used to denominate small towns built around sugar mills or simply to name small hamlets that sometimes are not towns as such. Their inhabitants treat themselves as a huge family; they live together but everyone in his /her bohio with gardens full of flowers in their front part and chicken and pigs stockyards at the back. In those simple but clean houses live the guajiros, word that is used to name the Cuban peasantry.
---
Related News
---