Big art party in Old Havanas streets and squares
Submitted by: admin

04 / 06 / 2007
---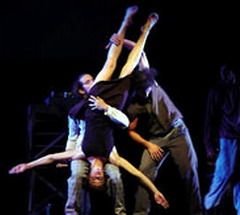 The 12th edition of the International Dance Festival in Urban Landscapes: "Old Havana: City in Motion" becomes April 4th-8th a new creative dialogue starting from Havanan architecture, as the oldest part of the city has opened again its most famous streets, houses, squares and corners to the dance movement in this festival that brings together beautiful varied styles and trends.
The workshops prior to this great dance party wer delivered by relevant personalities from France, Ecuador, Brazil and Argentina. The event has dedicated two of these workshops to childrens creation "Poesía en el espacio" (Poetry in Space), which runs at the Guayasamín House directed by French Raquel Pavez, and another that is developed on streets and squares of Old Havana by members of the Argentine dance company "Actos Alusivos". The Víctor Hugo House has hosted workshop participants in a dance-video gathering with Leonel Brum, of Brazil.
This years edition of "Old Havana: City in Motion", space for dance promotion, will run for five days with the participation of dance troupes from some 20 countries from different latitudes, as well as 30 Cuban groups, nine of them from Camagüey, Las Tunas, Matanzas, Cienfuegos, Villa Clara and Guantánamo provinces.
The gathering started last April 4th, at 4:00 pm, with a pasacalle by Gigantería group, from the Arms Square through all the venues of the Festival. The events official inauguration took place at the Arms Square in the evening with the premiere of the piece ¿Azul? (Blue?), by Isabel Bustos, performed by the Retazos Dance Theater company.
The program includes presentations in the Benito Juárez, Oswaldo Guayasamín and Obra Pía museum houses every afternoon starting 5 oclock. In the evenings, there will be dance shows in El Jardín de Las Carolinas, headquarters of Retazos Dance Theater. On Saturday 7th and Sunday 8th, at 11:00 am and 3:00 pm, the Festival will reach multiple and unusual spaces in Old Havanas historic core, with pasacalles and performances by guest groups, mainly directed at the children.
Add to these proposals the celebration of the 2nd edition of the International Dance-Video Festival "City in Motion", with the screening of materials by creators from around 11 countries, April 5th-7th at the Víctor Hugo House, in Old Havana. The event pays tribute to Cuban choreographer Ramiro Guerra, National Dance Prize laureate, and filmmaker José Massip, who made Cuban documentary "Historia de un ballet" (History of a Ballet) in 1962, based on Ramiro Guerras work "Suite Yoruba". Dance videos reached Old Havana on the 5th and 6th with screenings at 8:30 pm.
The event also features concerts, performances and exhibitions, among them "Metal en movimiento" (Metal in Motion) at the Casa de la Orfebrería (House of Silversmithing) and two dedicated to the 20 years of Retazos troupe, at the Guayasamín House and Las Carolinas. For its part, the collateral program will include lectures and master classes.
"Old Havana: City in Motion" is annually organized since 1996, by hosts Retazos Dance-Theater company, and Havana City Historians Office, in coordination with the Theater Center of Havana. Since 1999, this Festival is included in the international circuit of cities that dance, world network, composed of over 24 cities of Europe and America and created in Barcelona in 1992.
These encounters seek to bring the spectator to a combination of artistic manifestations inspired on the history, architecture and design of one of the most beautiful neighbourhoods of our country.
The 12th International Dance Festival in Urban Landscapes: "Old Havana: City in Motion" has become again a suitable moment to foster the exchange of ideas and experiences among creators from dissimilar trends, to bring dance closer to a diverse public and to reassess both the architectural heritage of the city and its historical and cultural memory.
Source: By María del Carmen Vasallo, Cubarte
---
Related News
---