Best cuban athletes of the year selected
Submitted by: admin

02 / 15 / 2007
---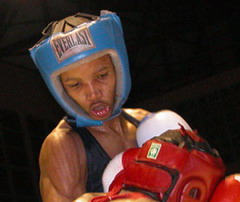 By: Luis López Viera
Boxer Rosniel Iglesias, from Cuba s far western province of Pinar del Rio , and Havana s Onix Cortes were chosen as the islands most outstanding younger athletes of 2006 in a poll whose results were revealed Monday. The annual survey is organized by Cuba s National Sports Institute (INDER in Spanish) and sports columnists.
Iglesias won 23 of the 28 matches he fought last year and was proclaimed world champion of ringsters in the 60 kilo classification who are younger than 19. He was bronze medalist in both the adult National Championships and in the third Olympiad of Cuban Sports.
Likewise, Cortes was also crowned in world amateur contests (in the 63 kilogram weight class) and stood highest on the podium at the first Tournament of the Caribbean . In addition, he took third position in the National Olympiad and second in the Golden Gloves classic. Onix Cortés is part of Cuba s main team, under the coaching of Ronaldo Veitia.
Along with the two princes, ten other outstanding athletes were chosen. Among these were boxers Alexei Collado ( Habana City ), Yordan Frometa (Pinar del Rio) and Luis Enrique García ( Havana Province ) "all international-class monarchs" as well as the sub champion of the world in track and field (pentathlon), Yordanis García (PRI).
Also appearing in the results were the Central Caribbean leaders Jorge García (Havana City) and Lianet Alvarez (Cienfuegoes), in canoeing; Andy Gonzalez (Havana City), in track and field ( 800 meters ); and Taimí Castellano (Santiago de Cuba), in taekwondo.
The group is rounded out with the second place winner of the Central American and Caribbean Games in the modern pentathlon, Yaniel Velazquez ( Havana City ), and the absolute national queen of chess and third on the continent: Jennifer Pérez (Villa Clara).
The awards ceremony will be held February 17 at the Ciudad Deportiva sports complex in Havana , where it will coincide with the beginning of festivities marking the 46th anniversary of INDER.
Source: Juventud Rebelde
---
Related News
---