At age 60 Silvio Rodríguez continues to invoke the music goblin
Submitted by: admin

11 / 30 / 2006
---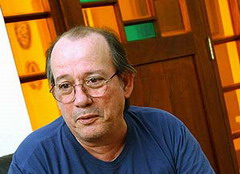 Aged 60 Cuban singer song-writer Silvio Rodríguez has thousand projects ahead. Theres a number of songs in process, while he continues to invoke the "goblin"; an ephemeral chemistry established with the public, whom despite his 40 years of professional career yet he fears to face.
Born on Nov 29, 1946 in San Antonio de los Baños, located 40 km south Havana, Silvio Rodríguez became one of the icons of the Latin American New Trova Song Movement together with his counterparts Pablo Milanés and Noel Nicola.
Guitarist/composer/singer /poet/draughtsman/Parliament Deputy and lately film producer Rodríguez tells AFP that 60 is a good age to make a halt, do his sums and think
"I review all Ive done so far and see theres still a lot to do. Its just a bit what Ive done. The best part is still to come. Lots of songs", he asserts.
He has about 20 discs, 300 recorded songs and a hundred unpublished, what did not settled the account with his very first musical inspiration until his latest disc Érase que se era composed in the '60s came up.
As part of the said Latin American collective effort are hit songs; Unicornio, Te doy una canción, Ojalá, La era está pariendo un corazón, Pequeña serenata diurna, Por quien merece amor, La maza, Al final de este viaje, Ángel para un final and Oh melancolía.
Few people know that the latter was born by accident. "Once while rehearsing a concert with Group Afrocuba, I played a chord mistakably and suddenly I told the musicians; 'Boys I need to go' and rushed back home to write Oh Melancolía!"
---
Related News
---