Ancient music within aged stones
Submitted by: admin

01 / 20 / 2007
---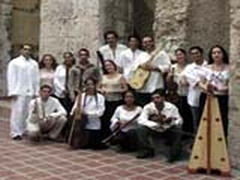 By Gladys González, Malena Cordoví, Aydelin Vázquez and Yoel Lugones
Ancient compositions and musical instruments attract Medieval Area, Renaissance and Baroque lovers, who will find in the 5th Ancient Music Festival Esteban Salas a good choice and space to discover other related sacred melodies.
This years event runs from January 27 through February 4, whose backdrop design, wardrobe and staging of the characters seek to rejoice the early days of minstrels and troubadours.
The program honors the 400th anniversary of the opera L'Orfeo by Claudio Monteverde that premiered on February 24, 1607 a genre La Camerata Florentina boomed late in the 16th century.
Central venues for the activity are San Francisco de Paula Church, Oratory San Felipe Neri and the Minor Basílica of Convent of San Francisco de Asís, in addition to Palacio del Conde Cañongo, Aula Magna of the University of San Gerónimo in Old Havana and Casa Carmen Montilla chosen due to their architecture style. As for the Hispano-American Centre of Culture screens a cycle of audiovisuals with operas Le Bourgeois gentilhomme and L'Orfeo included.
Its a 16 concert program including pieces that pioneered lyric art, ancient dances and Medieval songs of them; Madrigal Festino Comedy by Adriano Banchieri will debut in Cuba. Devoted soprano Yolanda Hernández and French organist Francis Viril ensure a special performance at the Basílica.
Regarding the ensembles Conjunto de Música Antigua Ars Longa, first performers of the genre in Cuba, Cantiga Armónica, Nexus, Sine Nomine and group Nuestro Tiempo and the group of Colombian music students Ensambla de Flautas Dulces will perform.
These gathering have, according to teacher Teresita Paz, contributed by far to promote Ancient Music in Cuba for five years.
The Festival baptized with the name of our countrys Saint Patron of Ancient Music, Esteban Salas comes to honor both the relevant figure of this virtuoso as much as his vast poetic musical work.
Source: CubaSi
---
Related News
---