America Choral Festival underway in Cuba
Submitted by: admin

04 / 01 / 2007
---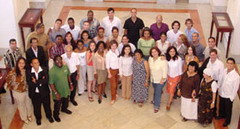 The Fifth American Cantat International Choral Festival got underway Friday evening with an inaugural concert held at the Karl Marx Theater in Havana. More than 600 singers from 14 countries are set to participate in the event which continues thorough April 7.
The opening night audience was delighted with Psalm of the Americas, composed and directed by Jose Maria Vitier, and performed by the Cuban Symphonic Orchestra together with many of the nations top choral groups.
Digna Guerra, president of the organizing committee, said that workshops on creation and an exchange of musical experiences will take place at the Havana Convention Center, with performances slated at several Havana venues.
Argentine professor Ricardo Denegri noted the importance placed by the Cuban government on the development of a choral movement, which includes support for professional groups not only in the capital but in the provinces as well. He said, unfortunately, this does not occur in the majority of the countries in the region.
Guerra said it is very important, "to honor the presence of these great teachers, who represent the highest level of choral music in their countries and who came to make a reality the festival motto of 'Lets join our voices in a fraternal song."
Orlando Vistel, speaking on behalf of the Cuban Music Institute, said the spirit of the event is in line with the winds of integration beginning to blow in Latin America and the Caribbean.
Argentine professor, Oscar Escalada evoked Nelson Mandela, who during his long years in prison called to song as an important spiritual tool to defeat his repressors.
The Amadeo Roldan Theater and several concert halls in Old Havana are the venues for public performances during the America Cantat Festival.
Source: By Omar Vazquez, Granma
---
Related News
---