Alton woman returns from visit to Cuba
Submitted by: admin

11 / 20 / 2006
---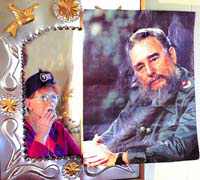 Since 1959, not a lot of Americans can say they spent their vacation in Cuba, but Altonian Anna Rodriguez can make that claim twice.

Rodriguez recently returned from her second trip to the communist Caribbean country, where she celebrated her 78th birthday.

"I want to go back as soon as I have the money," she said. "Ive been interested in it since the revolution" in January 1959, when Fidel Castro overthrew ruler Gen. Fulgencio Batista y Zaldivar.

The retired schoolteacher, an Anglo who lived 11 years in six provinces in Mexico while married to a Mexican man, said she always has admired Fidel Castro and the Cuban people.
She said she is "75 percent" fluent in Spanish, although there are colloquial differences between Mexican and Cuban speech.

Admittedly outspoken and feisty, she made her first trip to the island in 1990. Rodriguez says she is not a communist but admits to being a "rebel."

When she returned to Cuba last month, Rodriguez said she noticed tremendous differences, namely resulting from Chinese and Venezuelan investments -- and Canadian, to a lesser extent.

The foreigners are paying for infrastructure and selling products, including cars, to Cubans.

"The first time I was there, there was nothing to buy," she said, only coming back with a pair of earrings and an ashtray she bought from a vendors table. This time, more stores are open and products are more widely available, but prices still are reasonable.

Work on infrastructure also is bustling.

"I was amazed at so much construction going on," she said.

For years, the U.S. media has highlighted vintage cars still running on Cuban streets, but they are being replaced, she said.

"Cars are coming from Japan, France, Germany and Spain. There are lots and lots of new cars."

She did ride in a 1950 Ford into the countryside to talk to ordinary citizens, though.

Rodriguez said she did not worry about traveling alone, although friends were apprehensive.

"If you are nice to people, people are nice to you," she said.

She said Cubans and the many European tourists were friendly and helpful. Three years of English study are required in high schools, so she said she found many Cubans speaking the language.

"I didnt go to the beach, because it was full of tourists," she said, many of whom were Europeans, but a few were Californians.

While average Cubans and some Europeans told her they like individual Americans, except President George W. Bush, they told her they "hate" the American government. One German couple said they would not travel to the United States because of its policies.

She said Cubans particularly fear what the United States might do once Castro, 80, dies, as he is in ill health.

"Cubans are very afraid of what is going to happen when he dies; they do not want the American government coming in," she said. "They think the United States has its 'plans. I dont think we have the right to go into Cuba or any other country to try to change them. If they want to change when Fidel dies, they can make the change."

Rodriguez said she only talked to one person unhappy with the Castro regime, a teacher who complained about low pay.

She said she was surprised that the name of Elian Gonzalez did not come up. He is the child whose mother drowned while escaping in a small boat to Florida and who U.S. authorities returned to his father in Cuba in 2000.

One of the reasons she said she admires Castro, who she said she wishes she could have met, is that he built schools and hospitals "all over the island."

"Hes been able to keep the country going despite the United States and its embargo; they call it a blockade," she said. "It is so ridiculous; it should have been lifted long ago. We need Latin America as our friend and ally."

She retired in 1988 after teaching fifth and second grades in the Hazelwood (Mo.) School District. She has one son and three grandchildren.

Because U.S. citizens cannot fly directly to Havana, the capital of Cuba, Rodriguez flew to Cancun, Mexico, then got a visa and Cubana airline ticket to Cuba. She was in Cuba from Oct. 23 until Nov. 3.

Because general travel is forbidden for U.S. citizens under threat of penalties, Cuba does not stamp their passports.

Rodriguez said she believes the U.S. government probably knows who travels to Cuba, including herself, but isnt worried about repercussions.

"If they want to make a case out of a 78-year-old woman, then" so be it.

The U.S. Department of State warns tourists against going to Cuba. Its Web site says the Cuban government "relies on repressive methods to maintain control. These methods, including intense physical and electronic surveillance of Cubans, are also extended to foreign travelers. Americans visiting Cuba should be aware that any encounter with a Cuban could be subject to surreptitious scrutiny by the Castro regimes secret police, the General Directorate for State Security."

The warning also says "any interactions with average Cubans, regardless how well-intentioned the American is, can subject that Cuban to harassment and/or detention, amongst other forms of repressive actions, by state security elements. The regime is strongly anti-American, yet desperate for U.S. dollars to prop itself up."

The United States, which placed an embargo on the island when Castro gained control, does not have diplomatic relations with the Cuban government but does provide consular services under protection of the Swiss government.

Some U.S. citizens can obtain licenses from the U.S. Department of Treasury to travel to the country for business reasons, but not for general travel. People who do not comply with that requirement can face civil penalties or criminal prosecution when they return to the United States.
Source: The Telegraph
---
Related News
---