Aldo Lopez Gavilan at Cubadisco 2007
Submitted by: admin

05 / 26 / 2007
---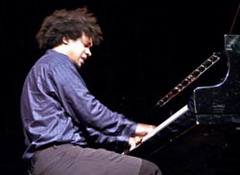 Aldo Lopez Gavilan sat down at the piano, moved his fingers and began to talk with the universe for nearly two hours on the stage of the Amadeo Roldan Theater in Havana at Cubadisco 2007.
Lopez Gavilan took the stage with a hypnotic mantle of eyes on him, even though he had drawn an audience largely familiar with his creative talent. Nobody wanted to miss this composer with a solid classical music background combined with frequent forays into the passionate world of jazz.
Once again the of this pianist appeared to embody the best spirits of Cuban and international music
As he had promised in an interview days before, he came to play a solo piano session. He did just that, proving his technical virtuosity and sensibility with his trademark naturalness, playing several pieces that could charm even a rattlesnake.
Aldo demonstrated why he has already etched out a special place in Cuban music right from the first piece El regreso and throughout a series of compositions that show his stylistic depth.
After the first applause, he started a demonstration of the diversity of his repertory, traveling to Zimbabwe to invoke the god Shona, who, according to African mythology, assures that souls arrive in peace to paradise. The melodic ritual captivated an audience that appeared to be fixated on a work of conceptual art at the Museum of Modern Art.
He also performed Pajaro carpintero, Me voy pa Cuba, Pan con timba and the popular Talking to the Universe, songs in which he blended his technical domination with the need to experiment.
Gavilan concluded his performance with a song from his latest CD Soundbite, a suite which includes Preludio, Tocata de guitarra para piano, Nacimiento y desvanecimiento del fuego and Final.
---
Related News
---