A surprising stylist boxer
Submitted by: admin

05 / 26 / 2007
---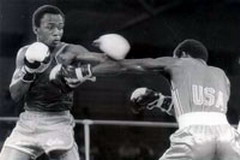 Since his childhood days, Jorgito loved swimming, but at that time, it was believed that swimming triggered asthma. So almost accidentally, he set foot in a gym, where a healthier lifestyle benefited him at large.
It was in Roberto Poland Gym, located in Los Quemados neighbourhood in Havana. The place had been a true source of first-class sportsmen. There Jorgito got involved in boxing, nonetheless.
When he was barely 14 - he was born on November 17, 1954 - his first trainer, Julio Yu, coached his first fight he lost on decision against José Dorado.
His physical condition - he was 1,60 m high and weighted 48 kg - often put him at a disadvantage. However, by dint of effort, dedication and his long-held wish of paring with his favourite boxer Emilio Correa, enabled him not only to get ahead in 1968 and hold the National Title in the Minors category, but also his chronic suffering finally disappeared.
At the Playa Giron Tournament held in Santiago de Cuba (1972), he won the silver medal in the 48 kg division, after losing a tight fight vs. Julio Rivera (Villa Clara). At the start of his Olympic cycle (1973 -1976), he won the champions belt defeating the veteran Rafael Carbonell in the Isle of Youth (1973). That same year, but in the city of Santiago de Cuba, he got the final victory over Renzo González at the Giraldo Córdova Cardín Torunament.
Once in Havana, Jorgito thought of nothing else but getting the crown at the 1st World Amateur Boxing Championship. But first he had to fight and win the Córdova Cardín Match in June 1974 to qualify in the feathers.
The historical event held in Cuba joined the best athletes in the 48 kg division like Alberto Sandoval US), the 1972 Munich Olympic champion Georgy Gedo (Hungary); bronze-medal winner Enrique Rodríguez (Spain) and the surprising winner Steve Mushoki (Kenya). One after the other, they all were defeated by the Cuban, Mlundiva from Tanzania included.
At the Pan Am Games, Mexico, 1975, Jorgito could beat Dominican Leoncio Mercedes and won the gold. his next step led him to consolidate nationally his feather position in order to take part at the Montreals Olympic Games 1976. But first he had to sweat his shirt fighting against the left-handed Héctor Ramírez in Camagüey, and later against the Santiago-born feather Jesús Ramos in Pinar del Río.
Being in the Canadian scene, the Cuban feather won the match by RSC vs. the Bulgarian Vladislav Foudjejiev and a 2-round-KO fight vs. the Nigerian Soffa Yarawi thus going straight to semi-finals, where he faced the worthy Korean rival
Byong Uk Li by split decision 4-1.
In addition, Jorge Hernández took part in four bilateral matches against the American boxers: Houston (1977) by 2-1 vs. Richard Sandoval; Havana (1978) by 3-0 Félix Castillo; New York (1978) he lost vs. 3-1 Jerome Coffe. Finally and again in Havana (1979) for a rematching, he won a victory 2-1 over Jerome Coffe.
At the Pre-Olympic Games, Moscow 1980, he was raised to the 51 kg division although in the course of the previous year, his skill as surprising stylist had failed slightly. There Jorgito fought hard but was defeated by the local opponent Vladimir Miroshmichenko, who later succeeded with the silver.
JORGE HERNÁNDEZ's OLYMPIC PERFORMANCE
MONTREAL, 1976:
He
- won by RSC in round 3 vs. Vladislav Foudjejiev (BUL).
- won by KO vs. Soffa Yarawi (UGA).
- won in a 5-0 decision vs. Orlando Maldonado (PUR).
- won in a 4-1 decision over Byong Uk Li (RPC).
MOSCOW, 1980
He lost by 4-1 decision against Vladimir Miroshmichenko (USSR).
---
Related News
---