A spirit- soaked rumba party
Submitted by: admin

11 / 04 / 2006
---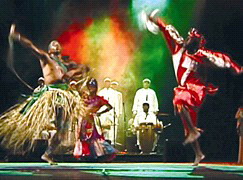 By: Jane Cornwell
Having shaken its collective derriere all the way from Havana, this Best Of package exploded into London amid cigar smoke, to the clink of several hundred mojitos.
Cubans and Cuban music lovers jostled for sightlines as party band Changui Santiago, on trés guitar, clay pots and a homemade coconut grater recreated their Afro-Spanish tradition's early 20th Century heyday, while a couple in black-and-white ruffles turned circles on the dance floor.
Salseros filled the breaks between the night's three diverse acts, many staying put for the evening's highlight: 17-piece showstoppers, Yoruba Andabo. A collective of female vocalists in Lurex, dancers in swirling straw skirts and Kangol-capped gents on bata drums and driving percussion, Yoruba Andabo grabbed Cuba's African heritage and honoured it with prayer and music.
Nasal call-and-response chants became mesmeric, trance-like, as the group explored the Santeria religion and its orisha saints in an increasingly wild Bembe ritual. Joyfully versatile, they played rumbas, flashed smiles. This, then, was the real sound of Havana - and one that begs a return visit.
That Yoruba Andabo should have headlined was no fault of rapper Papo Record. A talented MC with a fine line in barrio angst, his Spanish language invective made little impact on a crowd still reeling from a spirit-soaked rumba party.
Source: The Evening Standard
---
Related News
---