A new aura of economic prosperity over Cuba
Submitted by: admin

12 / 03 / 2006
---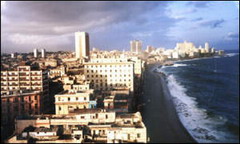 By David Jessop
Three weeks ago, I was in Cuba, a country I have been travelling to since the mid-1970s. My visit took place after a period of international media speculation about the country's future, fed, it would seem, by those who are unable to comprehend that the country and its government is about more than the failing health of one man.
Cuba was not as portrayed. There was a quiet confidence among ministers about the nation's future. There was an almost tangible sense that the country had moved on. A new order existed in all but name. The nation's economy was growing and an internal debate was under way about the ideas that will prepare the way for next generation of Cuban social and economic thinking.
Since 2003, Cuba has experienced steady economic growth. More recently, this has been helped by income from the export of medical services to Venezuela, high prices for Cuba's expanding nickel industry, savings on energy imports and, an increasing income from tourism and non-traditional exports.
As a consequence, Cuba anticipates significant economic growth this year and is forecasting that this will continue at least for the next two to three years - albeit at a slightly lower levels. According to Minister of Economy and Planning, José Luis Rodriguez, the economy will expand by 12.5 per cent this year. Although this figure reflects a local formula that includes the market value of free and subsidised social services, a deduction of three to four per cent brings it into line with standard international calculations of GDP and still leaves Cuba's projected growth on par with that of China or Argentina.
At a macro-economic level, it has exercised tight control of credits within the internal economy, has inflation in check and has been able to find ways to address 80 per cent of its medium- and long-term commercial debt.
External investors
It has become more selective about inviting in external investors and has recognised what it describes as the role that 'serious companies' can play in the Cuban economy. It is looking for future joint ventures in oil exploration and power generation, the construction of more hotels including golf courses, and, the development of by-products and derivatives of sugar cane.
The island has also largely solved its energy generation and distribution problems and has begun to develop as joint ventures in China, India and elsewhere, high-value manufacturing and marketing-operations for the product of its advanced biotechnological research.
Just as importantly in the medium- to longer term, it is now receiving long-term finance from China and to a lesser extent Russia and Venezuela. It has also moved its economy to one that is now dominated by services exports and new forms of integration with the advanced economies of countries such as India and China. As a result, it has effectively globalised its relations and achieved significant economic room for manoeuvre without requiring the involvement of either Europe or the United States.
What this means at a domestic level is that government now has the time and the money to begin to address problems in the social sector through improving food supplies and the availability of consumer durables. It is also able to tackle festering problems relating to transport and housing.
Separately, a fundamental debate has begun about ways to improve efficiency and management and end the low-level workplace corruption that has become endemic.
Put another way, what this means is that the island has become quietly confident and is far from the way that most would portray it.
As this is being written, Cuba is preparing for a number of major military parades. These far from usual events seem intended to show the world that the island is prepared to meet any external threat when, as is now widely expected, the present leadership formally changes. These events may also be intended to demonstrate the now central role that the Cuban military has as the guardian of the island's socialist system.
By global standards, the Cuban military is something of a misnomer as it is an organisation whose role that extends into business, education, health care and the island's Communist Party and its aspirations for the future.
Cuba's armed forces have a level of respect that transcends their military role. Their probity, management capabilities and efficiency not only indicate why they have become the succession but also why it will be the military that will find, if they can, the right model and a fresh message about the gradual economic liberalisation that many younger Cubans desire. Whether this will be an indigenised version of the type of market reforms introduced in China may well depend on whether a way can be found to achieve the gains without creating huge social inequalities.
Vindicated
Talk to senior Cubans and it is clear the island no longer feels isolated. They believe that they have been vindicated by the socially-led changes in the leadership of governments across Latin America, seeing them as enabling social rather than mercantilist values to become the driving force in hemispheric policy.
All of which is not to minimise the Cuban President's unique role in history, predict where the emotional response of the Cuban people may be to his eventual demise, or to suggest that internal divisions and uncertainties do not exist. Neither is it to express an opinion on the nature of the Cuban system.
Instead, it is to suggest that as in Iraq, the failure to understand the values of an alternative model and culture has caused the U.S. and Europe to have placed an embargo on their ability to relate to or have any role in the changes that are now taking place.
Source: Jamaica Gleaner
---
Related News
---