A fascinating love and indifference story of in a Havana stately home
Submitted by: admin

11 / 14 / 2006
---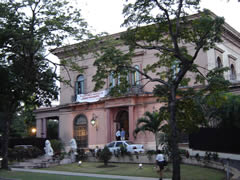 Behind one of the most dazzling residences of Havana city of 1926 (Paseo Avenue, corner 17) hides a fascinating love and indifference story. The main character was one of the most beautiful girls of Cuba at that time, who won several prestigious beauty contests. Catalina Lasa was one of the most flattered ladies of the Havanas high society.
However, Catalina has to live without the right to love freely bearing the contempt of an ancient and aristocratic society that strongly criticizes her for falling in love being married, with the wealthy widower landowner Juan Pedro Baro.
Her husband, Pedro Estevez Abreu was the firstborn of the first vice president of the republic and of Matha Abreu, who was recognized as the benefactor of the Santa Clara city.
At that time, law did not permit the divorce, but the sincere young woman asked to her husband to break off by mutual agreement. When he refused, this gave rise to one of the greatest scandals remembered from that time in which false morality was the first enemy for peoples happiness.
Due to the deep-seated contempt that young Carolina and widower Baro faced, they decided to escape to Paris where they were allowed to get married according to the French law. In addition, as a reward after much suffering and so many efforts, the Pope himself welcomed and blessed them in the Vatican stating that in such a case the intolerance cannot prevail and invited Havana to materialize the annulment of her marriage. This happened finally in 1917 when President Mario Garcia Menocal passed the divorce law and Catalina Lasa was the first benefited person in Cuba.
After the marriage consummation, they returned to Havana, she was eager to meet her children and her land again. They brought tastes and customs from France, so that they ordered to build that Frenchified home, precursor of the modern age whose interior has an art deco style decoration in fashion two years before in the Modern Decorative and Industrial Arts Exhibition in Paris.
Nevertheless, Catalinas health was damaged and the happiness of the newly married couple was shorter than what they expected to. Four years after that happy day of her reunion with the Havana society in her illustrious mansion, Juan Pedro returned to Paris with her wife aiming at looking for the best doctors and means, but the beautiful lady died on December 3, 1930.
Her embalmed body came back to Havana and rest forever in a luxurious pantheon her husband ordered to build at a cost of half-million pesos located in the best area of the Colon cemetery. It is said that when he was almost to die ten years later he stipulated to be buried standing to look after the eternal rest of his beautiful Catalina.
---
Related News
---