Cuban beach volleyball pairs to play in China and Cayman Islands
Submitted by: Juana

04 / 21 / 2017
---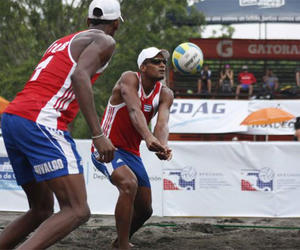 ---
The Cuban duos of Nivaldo Diaz-Sergio Gonzalez, Karell Peña-Daisel Quesada and Lidianis Echeverría-Leila Martínez will compete this weekend at the World and NORCECA beach volleyball tours, in that order.
Diaz and Gonzalez will be in the Chinese city of Xiamen in search of winning points to the universal ranking and their qualification to the world championship, based in Vienna, capital of Austria, from July 28 to August 6.
The contest on Asian soil will be from April 20 to 23, with the presence of 60 pairs from 26 countries, according to the website of the International Volleyball Federation.
The Cuban side won unbeaten the gold medal in the fifth stop of the circuit, with a stage in Langkaw, Malaysia, when defeating 2-0 (21-17, 21-18) in the final Austrians Florian Schnetzer and Peter Eglseer.
Peña-Quesada and Echeverria-Martinez, undefeated winners of the NORCECA stop of La Paz, Baja California Sur, Mexico, will also try to climb positions in the ranking, but in the Cayman Islands, from April 20 to 24.
Their victims in the finals were Mexicans Ontiveros-Virgen, with a score of 2-1 (21-13, 17-21 and 15-8), and Canadians Bansley-Wilkerson also 2-1 (21-19, 19-21 and 15-13), in that order.
---
Related News
---