Cuba and the Republic of Congo Determined to Strengthen Bilateral Ties
Submitted by: Juana

04 / 18 / 2017
---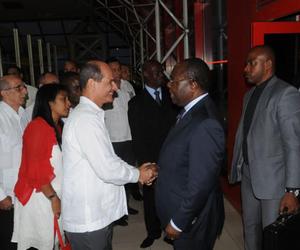 ---
The President of the Cuban National Assembly, Esteban Lazo and the Prime Minister of the Republic of Congo, Clement Mouamba expressed on Monday in Havana the determination of strengthening commercial, economic ties and cooperation between both nations.
The Cuban Parliament President welcomed the head of the Congolese government at the Capitol building, new headquarters of the legislative branch where both sides confirmed the friendship ties that unites both nations.
Lazo explained how Cuba values the political relationship with the African country and ratified the island's will in also strengthening Parliamentary ties.
He reaffirmed that Cuba is proud of its relations with the African countries, especially Congo whose history cannot be told without mentioning the legendary guerrilla Ernesto Che Guevara who fought alongside a group of internationalists for the liberation of that nation.
On behalf of the Cuban government and people, Lazo said he was grateful for the profound manifestations of the Congolese people on occasion of the death of the leader of the Revolution Fidel Castro and also thanked the Prime Minister of Congo for paying tribute to the Commander in Chief whose ashes were laid to rest in Santiago de Cuba.
The President of the Cuban Parliament was also grateful to the African country for its unconditional support against the continued economic, commercial and financial blockade imposed by the United States against Cuba for over half a century.
According to the Cuban government official, current cooperation between both countries includes the presence of close to one hundred Cuban doctors in the Republic of the Congo while over two thousand Congolese students are studying in the Caribbean island.
He added that the cooperation is also extended to agriculture, cattle and fishing; sectors that are found in the memorandum of understanding signed last August by authorities of both governments.
Mouamba expressed feeling moved after realizing that Africa has participated in the construction of today's Cuba, with an expression of solidarity that dates back to Cuba's struggle for liberation.
The agenda of the Prime Minister of the Republic of Congo included meetings with government authorities in addition to paying tribute to Fidel at Santa Ifigenia Cemetery in Santiago de Cuba, and Jose Marti at Havana's Revolution Square.
The African leader is scheduled to visit the Park of African leaders in honor to prominent African political figures.
---
Related News
---