Mexico deports tens of undocumented Cubans who headed for US
Submitted by: Juana

01 / 26 / 2017
---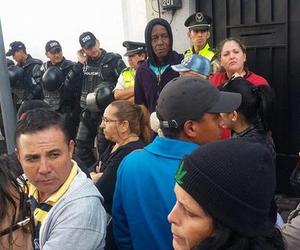 ---
Mexican authorities over the weekend returned to Cuba a first group of 91 undocumented Cuban citizens, following the dropping on January 12 by Barack Obama of the dry-feet wet-feet policy, which allowed Cuban nationals into American territory if they arrived in US land either through land or sea.
A total of 71 men and 20 women were flown from the Chiapas airport of Tapachula following the nationality recognition by Cuban authorities and based on bilateral accords between Mexico and Cuba, according to Mexico´s National Migration Institute.
The measure was backed with a communiqué reading that Mexican authorities proved the irregular migration situation of all 91 Cuban nationals.
A Mexican Federal Police plane took the Cubans back to their country after receiving clearance from the island´s authorities to land in Havana, said the Mexican Institute, which ratified its commitment to enforce the law without any difference or distinction as to nationalities, and preserving the human rights of foreign persons who use Mexican territory to reach the US border.
The dropping of the wet-foot dry-foot by Obama, broke an important link in the chain of US policies that encourage illegal departures from Cuba. Along with it, Obama also put down the US medical parole, which encouraged Cuban medical personnel to abandon their services in Latin American nations to leave for the US. However, Washington still keeps the 1966 Cuban Adjustment Act in force, which privileges Cubans who arrive in US territory by granting them a fast track to their US residence.
---
Related News
---