US-Cuba relations: a topic to be revised by Trump as soon as he takes power
Submitted by: Juana

01 / 12 / 2017
---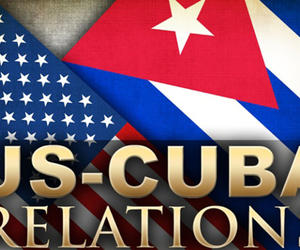 ---
US State Secretary candidate Rex Tillerson said he would suggest president-elect Donald Trump to veto any bill aimed at lifting the nearly-60-year long US economic, commercial and financial blockade of Cuba.
According to a Washington Post report commented by Cubadebate website, Tillerson said that the reestablishment of US-Cuba diplomatic relations will be a topic to be revised by Trump as soon as he takes power on January 20. He also said that Trump will not immediately approve any draft legislation to lift the Cuba-travel ban.
As to the withdrawal of Cuba from the US blacklist of countries sponsors of terrorism, Tillerson said that the new administration would carefully reconsider the criteria that led to that decision in order to see if such withdrawal was appropriate.
The candidate to the US foreign office gave his statements as some of the executive measures taken by President Barack Obama towards Cuba have favored bilateral exchange given by the opening of new commercial and direct flights from the US to Cuba; the first import by the US of Cuban charcoal, the possible use in the US of Cuban pharmaceuticals that can benefit American nationals, an increasing number of US citizens to Cuba under 12 categories despite the fact that the blockade laws ban US nationals from coming to the island on tourist visas, the granting of management of Cuban hotels to a US company, among other projects.
Most recently, four Cuban business women traveled to Washington and handed in a letter signed by 100 of their colleagues asking Trump not to revoke the advancement of current bilateral relations, since it would particularly translate into a fatal turning point for both nations.
Although all the executive orders by the Obama administration have not yet turned into reality, the Cuban people have welcomed the initiatives, both business communities look at them as advancement for bilateral trade and commercial relations.
Cuba has reiterated its willingness to improve bilateral links with the United States in what is considered a long and difficult process, which would first pass by the lifting of the US economic, commercial and financial blockade imposed on the island. Such web of legislations is the main obstacle to reach full and open bilateral economic relations, since it affects all sectors of Cuban society and economy.
---
Related News
---