Cuba and the Netherlands to tighten bonds in baseball
---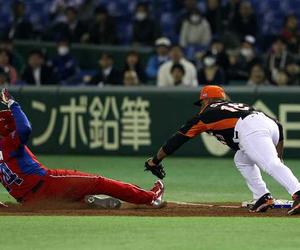 ---
Cuba and Holland will tighten their links on baseball with the development of an intense day of exchange agreed for Monday and Tuesday next week at Latinoamericano stadium in this city.
The program of activities includes a five innings exhibition match between representatives of both countries, as well as a home runs derby and a clinic aimed at children under 12.
Cuban baseball authorities held yesterday a meeting with Ambassador of the Kingdom of the Netherlands in Cuba, Norbert W.M, Braakhuis, with the purpose of contributing from sport to the approach between both nations.
The event, organized in the context of a major business visit of the European country to the island, will begin at five in the afternoon of Monday with the home run derby with four sluggers by each team, and will continue with the aforementioned five innings game.
source: www.cibercuba.com
---
Related News
---