Brother and sister of Fidel and Raul Castro interred in Biran
Submitted by: Juana

12 / 07 / 2016
---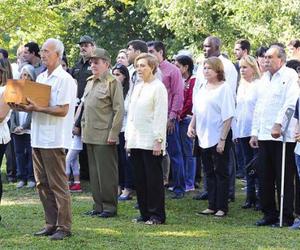 ---
Cuban President Raul Castro participated on Wednesday on the interment of the ashes of his brother Ramon and sister Angela, in Biran, their hometown, in the eastern Cuban province of Holguin.
The Castro family decided the burial would be at the farm where they were born, as well as the historic leader of the Cuban Revolution Fidel Castro, Prensa Latina
reported
.
Havana Historian Eusebio Leal read the eulogy and said this farm was the place where everything began and the spirit of the Castro Ruz family still lives.
The ashes of Angela and Ramon were placed at the family pantheon where their grandparents and parents rest as well. At the end of the ceremony, Raul toured the house, which was turned into a museum due to its historical value.
Angela Castro, the eldest of the Castro Ruz family died in February 2012, and Ramon, the elder of the men, passed away this February.
The Granma report highlights Ramon´s contribution to the war against the Batista dictatorship led by his younger brothers, and his work after the triumph of the Revolution that earned the title of Hero of the Republic of Cuba, especially in the agriculture and cattle raising sectors. (acn)
---
Related News
---