Austria and Cuba to sign accord on international economic collaboration
Submitted by: Juana

11 / 16 / 2016
---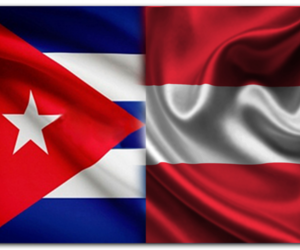 ---
Bernadette Marianne Gierlinger, vice minister of Austria´s Federal Ministry of Science, Research and Economy began today a visit to Cuba invited by the Ministry of Foreign Trade and Foreign Investment (MINCEX by its Spanish acronym), with which she will sign a Memorandum of Understanding (MOU) on international economic collaboration.
According to Cubaminrex official site, executives of the Federal Ministry of Science, Research and Economy, as well as representatives of the Federal Ministry of Transport, Innovation and Technology, the Austrian Institute of Technology and the business sector are part of the delegation from that European nation.
The working program includes meetings with ministries of industry, energy and mines, water resources and science and technology.
Since 2010, Vice-Minister Gierlinger has been in charge of foreign economic policy, foreign investment policy, trade policy, export control, among other issues of the Austrian Federal Ministry of Science, Research and Economy. Previously, for almost a decade, she held different responsibilities at the Federal Ministry of Finance.
The visit of the Austrian delegation takes place within the framework of the celebrations for the 70th anniversary of diplomatic relations between Cuba and Austria, while at the same time it marks an important pattern in the strengthening of bilateral economic and commercial relations.
---
Related News
---