Abe: visit opens new chapter in Japan-Cuban relations
Submitted by: Juana

09 / 23 / 2016
---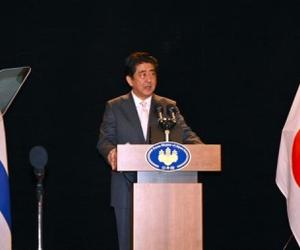 ---
Japanese Prime Minister Shinzo Abe said his visit to Cuba opens a new chapter in the long-standing friendship relations between the two countries.
At a press conference at the Hotel Nacional de Cuba, Abe said he hopes this trip helps boost a healthy development in the relations between the two island nations.
Abe, first sitting Japanese PM to visit Cuba, added his country expects to increase the volume of its direct investment in the Caribbean nation in the fields of medicine, agriculture and education, as well as in the building of infrastructure.
He said he had discussed these issues with Cuban President Raul Castro during the meeting the two dignitaries held the Thursday afternoon.
Abe stressed his country´s willingness to develop relations with Cuba, and highlighted the high educational level of the Cuban people, the training of its human resources and the safety in Cuba, a combination of factors that make of Cuba an attractive spot for investors.
If Japanese companies can feel there is a favorable investment environment, and the US blockade of Cuba "softens", they will flock into the island, Abe said.
During his speech he recalled Fidel Castro´s trip to Japan in 2003 and his visit to Hiroshima, one of the two Japanese cities nuked by the US in August 1945.
Humanity shouldn't repeat that experience; he said and made a call to the international community for unity against nuclear weapons.
Before coming in Havana, Abe addressed the UN General Assembly where he made that call as well. (acn)
---
Related News
---