Heavy rains in Cuba
Submitted by: Juana

08 / 30 / 2016
---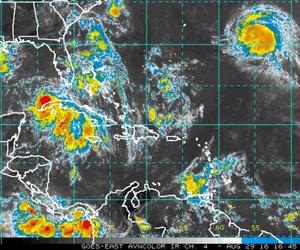 ---
The Cuban Institute of Meteorology reiterates that during the day rain will occur in most parts of the country, which may be heavy in the afternoon from Matanzas to Pinar del Rio.
It will be cloudy in much of the island with showers and rain in areas of the north coast of the western half of the country in the morning, which in the afternoon will increase in much of the country, and may become heavy and intense.
The day will be hot with maximum temperatures between 31 and 34 degrees Celsius. At night there will be temperatures between 25 and 28 degrees Celsius.
There will be variable and weak winds, which in the afternoon will come from the northeast in areas of the north western coast, up to 25 km / h.
There will be swells on the north eastern coast, decreasing gradually in the afternoon. There will be little swell in areas of central and northern coast from Cabo Cruz to Punta Maisi.
In the rest of the coastal sea will be calm, increasing gradually to little swell in the afternoon on the north western coast.
In areas of showers and thunderstorms, wind and wave height may increase.
---
Related News
---