Tourist boom continues in Cuba according to National Statistics Office
Submitted by: Juana

08 / 24 / 2016
---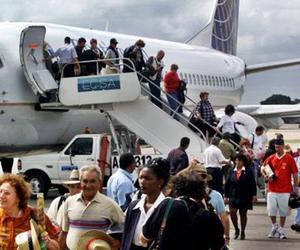 ---
The National Bureau of Statistics and Information (ONEI) confirmed that in the first half of this year Cuba reached the figure of two million 147 thousand 919 visitors, representing an increase of 11.7 percent compared to the same period of 2015.
The official report also illustrates that in June this indicator grew 11.8 percent with the arrival of 25,895 vacationers to the island -more than in the same period of last year, when a record figure of three million 524 thousand 779 tourists was achieved.
The note specifies that in the sixth month of the year Canada continued to be the main source market of travelers to Cuba (48,796 citizens), although with a slight reduction as compared to the same period of 2015.
According to the Ministry of Tourism (Mintur), such behavior is primarily associated with the devaluation of the Canadian dollar.
The ONEI report also shows that in terms of sending tourists to the island, Canada is followed, in that order, by the Cuban community abroad and the U.S. (61.2 percent growth), whose citizens can only travel to the island under the protection of 12 general licenses approved by the government of Barack Obama.
The list also highlights England, Germany, Spain, Mexico, Italy, Argentina and France, all with increases in the number of vacationers coming to Cuba, mainly Germany, with 69.2 percent.
It should be noted that the German airline Air Berlin added, as of May 28, two weekly flights between Düsseldorf and the city of Havana, for a total of five frequencies each month during the summer.
It was known that the new operation makes it possible to offer more than a thousand 400 new seats to those wishing to visit Cuba, and increase to more than four thousand 700 tourists the number of visitors coming from that European country, after incorporating the flights of Condor, Air Berlin and Eurowings.
To achieve higher standards of quality care to passengers, crew and aircraft, Cuba recently gave the well-known French companies Bouygues and Paris airports, the expansion and management, respectively, of Jose Marti International Airport in Havana.
Due to the tourism boom experienced by the country, the Mintur plans to add new and better accommodations and facilities in the coming years. According to estimates, the island will have more than 85,000 rooms by 2020.
At present, Cuba has a capacity of 63,000 rooms, of which almost 70 percent are located in four and five star facilities.
(acn)
---
Related News
---