Savon achieved second victory of the Cuban boxing team in Rio
---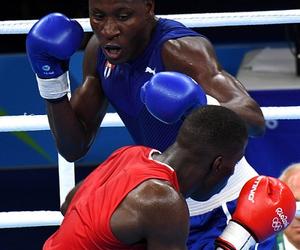 ---
Cuban Erislandy Savon achieved the second consecutive victory of the Cuban boxing team at the 31st Olympic Games, held in Rio, Brazil.
Savon, 91 kilograms world champion, beat in the round of 8 by unanimous decision British Lawrence Okolie, whom he had already knocked out in the first round of the 6th World Series two months ago.
Next Wednesday, in quarterfinals, the Caribbean boxer will face Argentina´s Yamil Peralta, who beat German David Graf.
Savon also owns the scepter at the Toronto 2015 Pan American Games (Canada) and the silver medal at the World Cup of Doha, Qatar, that same year.
Johanys Argilagos (49 kilos) got Cuba's first win in boxing when defeating in the morning the also British Galal Yafai at Riocentro Complex.
Considered the flagship of the Cuban delegation to the Brazilian event, boxing has several athletes aspiring to medals, including Lazaro Alvarez (60 kg) and Julio Cesar la Cruz (81).
---
Related News
---