French companies to manage Havana airport
Submitted by: Juana

08 / 09 / 2016
---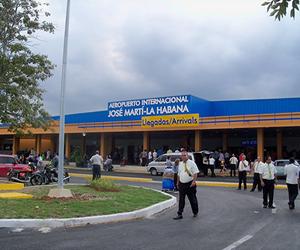 ---
Havana's Jose Marti International Airport -first Cuban gate to the world- and the aerodrome of San Antonio de los Baños, in Artemisa, - will be managed under the modality of concession by the French companies Bouygues Batiment International and Aeroports de Paris.
With this mode of administration Cuba seeks to apply the best management practices internationally to achieve higher standards of quality in services to passengers, crew and aircraft, Cuban Deputy Minister of Transport Eduardo Rodriguez told reporters.
The announcement took place on Wednesday in the Cuban capital, after concluding the tender process involving several companies from other parts of the world.
Rodriguez explained that the concession arrangement means that foreign companies of international prestige and knowledge in this activity, like the ones selected, will lead the administration of the airport together with Cuban entities.
He clarified that regulatory activities -Customs, Immigration and Operational Safety- remain under Cuban state control and ratified that all means and facilities making up the airport and the ones to be built in the future will continue to be Cuban property.
To a question by ACN on the date the new management will start, he said negotiations will begin to finalize details of the final contract, to be signed next year.
However, it was agreed to work with the French companies in the financing and implementation of immediate actions to improve service quality and agility in arrivals and dispatch of luggage, in air terminals of both international and national flights.
In the medium and long terms -from 2018 to 2030- airport investments in line with passenger growth estimates are planned, including the extension of the terminal three of the "Jose Marti," to concentrate international traffic in this terminal, he pointed out.
The deputy minister stressed that transport and infrastructure are strategic and prioritized elements in Cuban economy and society, so such alliances -the first of its kind in the airport area in the country- will continue to be promoted in other Cuban airfields.
He said that the airports in Varadero, Santa Clara, those of the northern cays and Holguin, would be among those selected to hereinafter reach agreements like the one announced for the Jose Marti International Airport.
The French companies Bouygues Batiment International and Aeroports de Paris have extensive experience in their respective fields, the first with a history of tourist constructions in Cuba and the second a prestigious operator entity that manages the major airports in France, including the Charles de Gaulle in Paris.
In recent years the Cuban Aviation Corporation S.A. has been expanding and modernizing national airport facilities in order to assimilate passenger traffic on the island, with proper operational and aviation safety, in compliance with Cuban Aviation Regulations and in accordance with the standards and practices recommended by the International Civil Aviation organization (ICAO).
(acn)
---
Related News
---