Lightning Strikes, first cause of death in Cuba by natural phenomena
Submitted by: Juana

08 / 01 / 2016
---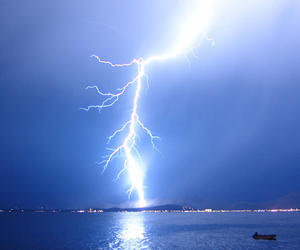 ---
Specialists with Cuban Geo-Physics and Astronomy Institute warned on the danger posed by thunderstorms on the island as lightning strikes rank the first cause of death on the island by natural phenomena.
Thunderstorms occur the whole year round in Cuba, but are more frequents from April to October and particularly during the hurricane season from June through November.
Expert Reniel Suarez said that a lightning strike takes place in just 43.5 mili-seconds and an average of 65 Cubans die from such electric discharge annually. He recalled that from 1979 to 2013 more than 1 thousand 680 citizens were the fatal victims of direct, indirect or secundary impacts by those natural phenomena.
Suarez suggested protection measures in the face of a thunderstorm, such as finding safe shelter till the thunderstorm dissipates; not to remain in open space, labor or sports activity, or in pools, in showers, lakes, rivers, beaches or boats, not to speak on phones, or be near or touch metal structures, among other actions.
(acn)
---
Related News
---