New agreements between Cuba and Saudi Arabia
Submitted by: Juana

07 / 22 / 2016
---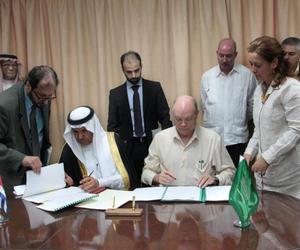 ---
Cuba and Saudi Arabia signed on Thursday in Havana two new agreements that will favor the export of products from that country to the island, and the financing, with long-term loans, of infrastructure works in the area of ​​water resources.
The Cuban Minister of Foreign Trade and Investment (MINCEX), Rodrigo Malmierca, and Ahmed M. Al-Ghannam, director general of the Saudi exports program of that nation's Fund for Development, signed the agreements that will allow progress of bilateral trade.
According to Malmierca, one of the agreements will favor the import to Cuba of Saudi products through loans that will be paid in five years, amounting to approximately 50 million dollars, which give new refunding facilities as money is used.
At the headquarters of MINCEX, the minister pointed out that the first contracts for the supply of equipment for agriculture are already signed, and expressed the conviction that such advantages contribute to the development of bilateral trade.
On loans concerning the other agreement, he said that they will be aimed at continuing to finance, on favorable terms for their refund, the project for the restoration of water supply systems and sanitation in the city of Cardenas, Matanzas.
It was known that the credit, for more than 29 million dollars, aims to guarantee the construction in that western territory of a conductive system and new distribution networks, as well as to improve pluvial drainage and the creation of a sewerage system and a sewage plant.
Malmierca stressed that currently the Saudi Fund for Development analyzes new ideas for joint projects, for which the future of relations is guaranteed, he pointed out.
After expressing his happiness for being in Cuba, Al-Ghannam underlined that his visit seeks to consolidate economic ties between the two nations.
He highlighted that the signing of five agreements in the last five years, when bilateral cooperation began, shows the good execution of the financing granted and the willingness of the Saudi Fund to continue working to strengthen ties with the island.
The agreements signed between Cuba and that country in the field of water resources are now four, while the first took shape in the field of trade.
Attending the ceremony were Enrique Enriquez, Cuban ambassador to Saudi Arabia; Abdulkareen M.A. Helal, charge d'affaires of the embassy of that state in Havana, and MINCEX executives.
(ACN)
---
Related News
---